Good morning Legionnaires and veterans advocates, today is Tuesday, June 19, 2018 which is World Sickle Cell Day, Juneteenth, National Martini Day and National Sauntering Day,
This Day in American Legion History:
June 19, 1951: President Truman signs into law the nation's first-ever Universal Military Training and Service Act, introduced earlier in the year as S. 1, The American Legion's long-desired solution to a lack of wartime preparedness. A massive grassroots lobbying effort and support campaign, as with the Servicemen's Readjustment Act of 1944, comes from the Hearst newspapers and helps push the measure through both houses of Congress at the same time U.S. troops are fighting on the Korean peninsula. For more than 30 years, The American Legion had fought for UMT – which was not to be confused with UMS, or compulsory Universal Military Service. The bill may have been passed into law, but implementation would require further legislation that would prevent it from full and immediate adoption. Civilian or military authority questions, the shelf life of the program (the Legion sought for it to be permanent) and its compatibility with the Selective Service mired implementation legislation and on March 4, 1952, the House sends the long-awaited UMT enactment legislation into the vortex of more study.
"Recommit this bill for further study? How many years of study have we had on this subject? Do we not have the moral fortitude and courage to meet this issue? If we are not ready today, when will we be ready?"
· Speaker of the House Sam Rayburn, arguing against further study of UMT after a move to defeat its implementation altogether loses by a narrow 196-176 margin on March 4, 1952, but a motion passes 236-162 later in the day to send it to the House Armed Services Committee … for further study
·
This Day in History:
· 1910 – The first Father's Day is celebrated in Spokane, Washington.
· 1943 – The Philadelphia Eagles and Pittsburgh Steelers in the NFL merge for one season due to player shortages caused by World War II.
· 1944 – World War II: First day of the Battle of the Philippine Sea.
· 1949 – The first ever NASCAR race was held at Charlotte Motor Speedway.
· 1953 – Cold War: Julius and Ethel Rosenberg are executed at Sing Sing, in New York.
· 1991 – The Soviet occupation of Hungary ends.
· 2007 – The al-Khilani Mosque bombing in Baghdad leaves 78 people dead and another 218 injured.
TABLE OF CONTENTS:
· Military.com: No Movement Yet on North Korea's Promise to Return US Troop Remains
· DefenseNews.com: Five debates lawmakers still need to settle in the defense authorization bill
· Washington Examiner: Pentagon suspends planning for August 'war game' with South Korea
· Politico: Senate passes defense policy bill, setting up talks with House
· NY Post: Army officially splits with West Point 'commie cadet'
If you wish to be removed from this email list, kindly email Mark Seavey at mseavey with "Remove from Daily Clips" in the subject line. If you have received this from someone who forwarded it and would like to be added, email Mark at mseavey and he will promptly add you to the list, that you might get the daily American Legion News.
Military.com
No Movement Yet on North Korea's Promise to Return US Troop Remains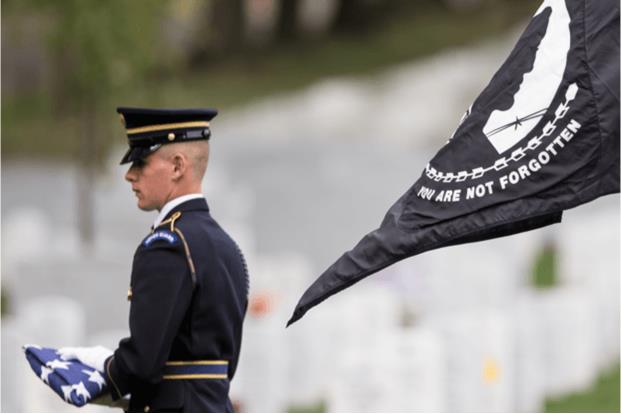 A member of the Army's 3rd U.S. Infantry Regiment (The Old Guard) holds an American flag as he stands next to the POW/MIA flag before a service for U.S. Army Cpl. Robert E. Meyers, of Greencastle, Pa., a soldier from the Korean War who's remains have been identified due to advances in technology, Monday, Oct. 26, 2015 at Arlington National Cemetery in Arlington, Va. (AP Photo/Andrew Harnik) — The Associated Press
Military.com 18 Jun 2018 By Richard Sisk
The Pentagon agency in charge of accounting for missing Americans troops has yet to receive notice to prepare for the return of remains by North Korea that President Donald Trump called a key success of the Singapore summit.
"We're standing by [but] we haven't officially been asked to do anything," Chuck Prichard, a spokesman for the Defense POW/MIA Accounting Agency (DPAA), said Monday.
"This is our business," he said of recovering remains from foreign battlefields. But he added that the work of diplomacy must come first. "We're at the tail end of this."
On the North Lawn of the White House last Friday, Trump suggested to Fox News that the remains of missing Americans from the Korean War might already be in the process of being repatriated.
He said the North Koreans "are already starting to produce the remains of these great young soldiers who were left in North Korea. We're getting the remains, and nobody thought that was possible."
At the Singapore summit last Tuesday, Trump and North Korean leader Kim Jong Un signed a joint declaration committing to sending the missing troops home.
"The United States and the [Democratic People's Republic of Korea] commit to recovering POW/MIA remains, including the immediate repatriation of those already identified," the declaration reads.
At a news conference after the summit, Trump said he was acting on behalf of the families of the missing.
"I must have had just countless calls and letters and tweets, anything you can do — they want the remains of their sons back," Trump said.
It's unclear, however, how many parents of troops killed in a war that ended with an armistice 65 years ago might still be living.
"I asked for it today, and we got it. That was a very last minute," Trump said of the agreement. "The remains will be coming back. They're going to start that process immediately."
Richard Downes, executive director of the Coalition of Families of Korean & Cold War POW/MIAs, told Military.com by email last week that North Korea may already have about 200 sets of remains ready to be returned.
Downes, whose airman father Lt. Hal Downes is still listed as missing from a flight over North Korea in 1952, said he learned of the possibility that the North has 200 sets of remains on a visit to Pyongyang in 2016 with the Richardson Center for Global Engagement.
During the visit, Downes said he had received an offer from North Korea's vice foreign minister regarding his father's remains.
"We took it to the Obama administration but were refused," Downes said. "They preferred to hold out until NK responded to the nuclear issue. It was heartbreaking."
Downes praised Trump for being "the first to make the leap" on the recovery of remains.
"A lot of people/organizations worked to get it on the summit's agenda," he said.
According to DPAA, more than 7,800 Americans have not been accounted for from the Korean War.