Good morning Legionnaires and veterans advocates, today is Wednesday, July 11, 2018 which is Free Slurpee Day, National Blueberry Muffin Day, National Mojito Day and National Cheer up the Lonely Day.
This Day in History:
· 1804: In a duel held in Weehawken, New Jersey, Vice President Aaron Burr fatally shoots his long-time political antagonist Alexander Hamilton. Hamilton, a leading Federalist and the chief architect of America's political economy, died the following day.
· 1945: Fulfilling agreements reached at various wartime conferences, the Soviet Union promises to hand power over to British and U.S. forces in West Berlin. Although the division of Berlin (and of Germany as a whole) into zones of occupation was seen as a temporary postwar expedient, the dividing lines quickly became permanent. The divided city of Berlin became a symbol for Cold War tensions.
· (1656) Ann Austin and Mary Fisher, two Englishwomen, become the first Quakers to immigrate to the American colonies when the ship carrying them lands at Boston in the Massachusetts Bay Colony. The pair came from Barbados, where Quakers had established a center for missionary work. (Editor's Note: Anyone moving from Barbados to New England for any reason other than being a sports fanatic is completely insane. Dude, it is cold up there.)
· On this day in 1944, Count Claus von Stauffenberg, a German army officer, transports a bomb to Adolf Hitler's headquarters in Berchtesgaden, in Bavaria, with the intention of assassinating the Fuhrer.
TABLE OF CONTENTS:
· Stripes: VA secretary nominee Wilkie is approved by Senate committee
· Military Times: VA secretary nominee promises care for all vets, including transgender veterans
· Military Times: For the first time, a senator is opposing the VA secretary nominee
· Reuters: Exclusive: After discouraging year, U.S. officials expect review of Afghan strategy
· Stripes: Okinawa-based Special Operations airmen involved in Thai cave rescue
If you wish to be removed from this email list, kindly email me at mseavey with "Remove from Daily Clips" in the subject line. If you have received this from someone who forwarded it and would like to be added, email me at mseavey and I will promptly add you to the list, that you might get the daily American Legion News.
Stripes: VA secretary nominee Wilkie is approved by Senate committee
By NIKKI WENTLING | STARS AND STRIPES Published: July 10, 2018
WASHINGTON – Robert Wilkie, the latest choice by President Donald Trump to lead the Department of Veterans Affairs, was easily approved Tuesday by the Senate Veterans' Affairs Committee, moving his nomination to a vote by the full Senate.
The VA committee advanced Wilkie's nomination with a voice vote Tuesday afternoon. Sen. Bernie Sanders, I-Vt., was the only committee member to vote against the nomination.
The vote moves Wilkie a step closer to leading the second-largest agency in the federal government, which has been without a full-time leader for nearly four months.
"Mr. Wilkie has the expertise and the positive attitude to take on challenges that lie ahead, and he will prove indispensable in helping transform the VA," Sen. Johnny Isakson, R-Ga., said after the vote. "Today's committee vote signals the broad, bipartisan support that I hope we can look forward to in his confirmation by the full Senate."
Wilkie, 55, works as the Defense Department undersecretary of personnel and readiness. He's considered a safe choice for the job, given his decades of experience working on military policymaking on Capitol Hill and at the Pentagon and White House.
White House Press Secretary Sarah Huckabee Sanders said in a statement that Wilkie had "stellar qualifications" for the job and asked the Senate to confirm him as soon as possible. It was uncertain Tuesday when a confirmation vote might be scheduled in the Senate.
After a confirmation hearing June 27, most senators on the VA committee seemed willing to approve his nomination despite a Washington Post report that criticized him for embracing and defending divisive cultural issues. Isakson, the committee chairman, and Sen. Jon Tester, D-Mont., the ranking Democrat on the committee, issued their official support for Wilkie on June 28.
"Mr. Wilkie is committed to putting veterans first, and I'm pleased to support him," Tester said in a statement at the time. "The VA is navigating rough waters, and I will hold Mr. Wilkie accountable for serving our veterans."
The VA – with more than 375,000 employees and a nearly $200 billion budget – has experienced a flux in leadership at a time of major change.
Congress recently passed the VA Mission Act, a $52 billion package of reforms that need to be carried out during the next year. The agency is also implementing changes to veterans' education benefits and working on a multibillion-dollar project to overhaul its electronic health record.
In March, Trump fired former VA Secretary David Shulkin. Wilkie led the VA as acting secretary for two months until he was officially nominated for the position on a full-time basis. Since May, Peter O'Rourke has served as acting secretary.
Since Shulkin was fired, Deputy Secretary Tom Bowman retired and several health officials left the VA, as did the agency's chief information officer. No one has been nominated yet to lead the VA's vast health care system.
Adding to the strife, Rear Adm. Ronny Jackson, a White House physician and Trump's previous nominee for secretary, was pressured to withdraw after facing allegations of drinking on the job and doling out controlled substances. He's now under investigation by the Defense Department Office of Inspector General.
Since the VA became a Cabinet-level department in 1989, there have been nine secretaries. All of them were unanimously approved by the Senate, meaning no senator has ever voted against a VA secretary nominee. With Sanders' vote against Wilkie on Tuesday, it appeared that pattern could change.
During Wilkie's confirmation hearing, Sanders expressed concerns that Trump was attempting to slowly erode VA resources and send more money into the private sector.
In response, Wilkie said he believes the VA should be central to veterans' health care.
Military Times: VA secretary nominee promises care for all vets, including transgender veterans
By: Leo Shane III   15 hours ago
AddThis Sharing Buttons
Share to FacebookShare to TwitterShare to EmailShare to Google+Share to More53
WASHINGTON — Veterans Affairs Secretary nominee Robert Wilkie promised lawmakers this week that suicide prevention will remain the department's top clinical priority and transgender veterans will not see any benefits changes if he is confirmed for the post.
Wilkie, 55, was advanced by the Senate Veterans' Affairs Committee members on Tuesday, likely setting up a full chamber vote on his appointment later this month. Sen. Bernie Sanders, I-Vt., voted against Wilkie, the first time a senator has opposed a VA secretary nominee since the department was reorganized into a Cabinet-level post 30 years ago.
Wilkie is an Air Force Reserve colonel who previously spent time in the Navy Reserve and currently works as the Pentagon's top personnel and readiness official. He served as the acting VA secretary for two months following the firing of David Shulkin from that Cabinet post in March.
During his confirmation hearing last month, Wilkie received strong support from most members of the Senate veterans committee, who characterized him as a stabilizing force for the embattled agency.
But several senators still had unanswered questions after that two-hour public interrogation, and submitted additional queries to the nominee for additional clarification. Those answers came this week, just hours before the committee vote.
Among them were several follow-up questions related to Wilkie's role in crafting President Donald Trump's new Defense Department policy on transgender troops and recruits, an issue that has been the subject of multiple legal challenges.
Wilkie said he recused himself from that decision because he was confirmed to his Defense Department post well after the legal challenges had begun. In response to concerns about how those cases may affect VA policies, the nominee promised he has no plans to make changes.
"The department is proud to provide care, benefits and othe VA services to all veterans, including transgender veterans," he said in a statement. "That policy will remain unchanged."
He added that he values "the service of all veterans regardless of race, gender or sexual orientation, and they will all be treated with the respect and the support they deserve."
The statements could calm lingering concerns among some Senate Democrats about Wilkie's support of Trump's policies, or Wilkie's past work for conservative figures like former Defense Secretary Donald Rumsfeld and former Sens. Trent Lott and Jesse Helms.
Wilkie told lawmakers he is "committed to a diverse and inclusive workplace" and promised prompt disciplinary action for any VA employees found guilty of discrimination.
He listed his top policy priorities as implementing the new VA Mission Act — an overhaul of the department's community care health programs — and modernizing veterans electronic medical records, as well as reducing benefits backlogs and reforming VA's human resource systems.
Following Shulkin's lead, Wilkie said that his top clinical priority will remain suicide prevention.
"Suicide prevention ties into many veteran issues, such as opioid abuse, mental health, PTSD, homelessness," he said. "VA's number one clinical priority has to be to reduce suicide and suicidal behavior, and that requires a focused, national approach to engage with all veterans whether or not they receive care in the VA."
No timeline has been set for a full Senate vote on Wilkie's nomination.
Military Times: For the first time, a senator is opposing the VA secretary nominee
By: Leo Shane III   15 hours ago
AddThis Sharing Buttons
Share to FacebookShare to TwitterShare to EmailShare to Google+Share to More402
WASHINGTON — Senate Veterans' Affairs Committee members on Tuesday voted to advance the nomination of Robert Wilkie to be the next secretary of Veterans Affairs, but the move came with a symbolic and historic opposition vote against the move.
The panel by voice vote sent Wilkie's nomination to the Senate floor, but with Sen. Bernie Sanders, I-Vt., opposing the move. It's the first time in committee history that a member has voted against a VA secretary nominee.
Sanders, the former chairman of the committee, said he also intends to vote against Wilkie when his nomination comes to the full Senate for a vote. Since the department became a Cabinet-level agency in 1988, no senator has cast an opposition vote to the confirmation of a VA secretary nominee.
"This has less to do with Mr. Wilkie than President Trump," Sanders said following the vote. "Trump has been very clear about his desire to move to the privatization of the VA, and I suspect any of his appointees will try and move the agency in that direction."
Privatization of VA has been a major point of controversy for the department in the last year. Former VA Secretary David Shulkin said it played a role in his firing in March, when he accused political operatives in the White House of working to undermine department health care by too aggressively pushing taxpayer funds into private-sector hospitals.
White House officials have called those accusations baseless, and said that providing more health care options inside and outside VA is critical to ensuring that veterans receive the best care possible.
During his confirmation hearing last month, Wilkie repeatedly promised that he was opposed to privatization of the department, but also said that partnerships with doctors outside the federal system are critical for the reliability of the department.
"I believe in the centrality of VA to care," he said in response to a question from Sanders about privatization. "There are things that VA does that will never be replicated in the public sector.
"If we believe that the veteran is central, we can also make the argument that as long as VA is at the central node in his care … that reinforces the future of the VA."
In response to another related question from Sanders, Wilkie this week issued a statement promising to push for "proper funding" for both VA facilities and outside, community care programs.
"VA health care should be centered around what is best for that individual veteran and should be integrated, agile and adaptive," he said. "In some cases that requires VA medical facility care, and in other cases it requires community care."
Wilkie, 55, is an Air Force Reserve colonel who previously spent time in the Navy Reserve. He currently works as the Pentagon's top personnel and readiness official, and served as the acting VA secretary for two months following the firing of Shulkin.
He had received generally positive reviews from veterans groups and lawmakers before Tuesday. The committee's ranking member, Montana Democrat Jon Tester, offered his full support for the nominee shortly after the confirmation hearing.
Following Tuesday's vote, the White House issued a statement hailing Wilkie's "stellar qualifications for this role" and noting that the president "remains committed to ensuring our nation's heroes receive the care they deserve."
No timeline has been set for the full Senate vote on Wilkie's nomination.
If confirmed, Wilkie will be the 10th man to hold the permanent job in the last 30 years, and only the second to serve as both acting VA secretary and later as the permanent office holder.
Reuters: Exclusive: After discouraging year, U.S. officials expect review of Afghan strategy
5 Min Read
WASHINGTON (Reuters) – The United States is preparing to undertake a review of its strategy in Afghanistan, U.S. officials told Reuters, a year after President Donald Trump begrudgingly agreed to extend America's involvement in the 17-year-old war.
Officials said Trump has shown signs of frustration over the lack of progress since he unveiled a strategy last August that committed to an open-ended deployment of U.S. military advisers, trainers and special forces and increased air support for Afghan security forces. The goal was to force the Taliban militants to open peace talks with the Kabul government.
Trump was opposed to remaining in America's longest war, but was convinced by his advisers to give it more time. He authorized last year the deployment an additional 3,000 U.S. troops, bringing the total to around 15,000.
Nearly a year later, the current situation is in a stalemate in which Afghan civilians are paying a heavy toll, the Taliban are expanding in rural areas but are unable to capture major urban centers and the capability of Afghan security forces remains in doubt.
Several current U.S. officials and other former officials and advisers with direct knowledge said the White House had not yet formally ordered the review, but they were preparing for a government-wide appraisal in the next few months.
The officials spoke on condition of anonymity because they were not authorized to publicly discuss the issue.
"We've received some indications from the White House that Trump could ask for a review in the next few months. So we're preparing for what it would look like," said a senior U.S. official.
The review would examine all facets of the current strategy, including what progress had been made, the U.S. troops presence, and prospect of negotiations with the Taliban. It also would include U.S. relations with Pakistan, which U.S. officials accuse of supporting the insurgents, the senior official said. Islamabad denies the charge.
"We regularly conduct reviews of our strategies examining their effectiveness and making necessary adjustments to ensure U.S. resources are being used in the most efficient ways possible," a National Security Council spokesperson said in an emailed response to a request for comment. "We are not planning an overarching review of our core strategy, like the one conducted last summer."The official did not define "an overarching review of our core strategy," but added as Trump arrived in Brussels for a NATO summit that, "We expect allies and partners to carry their fair share of the burden in Afghanistan by continuing to increase troop and financial contributions."
LONGEST WAR
U.S.-led forces invaded Afghanistan in 2001 to topple the Taliban government for harboring al-Qaeda.
Since then, nearly 1,900 U.S. troops have been killed in the war, even as corruption remains endemic in the country and security remains precarious. A recent U.S. government watchdog report found that the Afghan government controlled or influenced only 56 percent of country.
Trump has vented over the lack of progress in Afghanistan, other officials told Reuters, also on the condition of anonymity.
"The president has asked repeatedly what progress we've made in Afghanistan since he made his decision, and how much we've invested there since 2001," said one senior official with first-hand knowledge of the ongoing debate over Afghan policy.
"He's voiced his frustration about the lack of progress many, many times, basically asking 'What have we got for all that money?'"
Michael Kugelman, a South Asia specialist at the Woodrow Wilson Center, said that if there had meaningful progress in Afghanistan, a review would be unlikely.
"The administration could essentially say (after the review) that the conditions have not improved on the ground, so what is the reason to stay," Kugelman said.
It is not unprecedented for the White House to request such an internal review. Officials said a similar review was carried out after President Barack Obama unveiled an Afghanistan strategy in 2009.
U.S. Secretary of State Mike Pompeo, on a surprise visit to Afghanistan on Monday, promised support for President Ashraf Ghani's bid to start peace talks with the Taliban and repeated the United States would be willing to take part.
He said the strategy announced last year was working, and would reassure Afghans "that we will support them as they continue fighting to liberate their country and their people."
Stripes: Okinawa-based Special Operations airmen involved in Thai cave rescue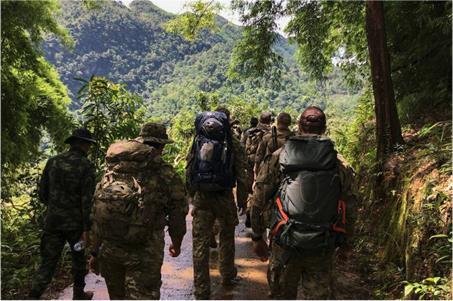 By SETH ROBSON | STARS AND STRIPES Published: July 10, 2018
YOKOTA AIR BASE, Japan — Dozens of U.S. military personnel, including pararescue airmen based in Okinawa, were part of a multinational effort that saved 12 young soccer players and their coach from a flooded cave in Thailand. The final boy and his coach were rescued Tuesday.
State Department spokesman Steve Castonguay in Chiang Rai Province, Thailand, where the operation unfolded, said in an email Tuesday that Thai authorities had the lead with about 40 American servicemembers in support.
"The U.S. team here consists of a survival specialist and pararescue specialists trained in personnel recovery techniques and procedures, as well as their support personnel," he said. The group also included Army personnel from a civil military support element, he said.
U.S. Special Operations Command tweeted photographs Tuesday of American servicemembers working on the rescue operations. They show an American servicemember looking at a map with his Thai counterparts, and other U.S. troops hiking into the jungle.
"The men and women of the 353rd Special Operations Group have been directly supporting this international mission for almost two weeks," the command said in its tweet.
The 353rd includes more than 800 airmen stationed at Kadena Air Base, Okinawa, and is the only Air Force Special Operations unit in the Pacific.
The rescue Tuesday of the last of the trapped boys and their coach from Tham Luang Cave was announced by the Thai Navy SEALs on their Facebook page.
"Twelve Wild Boars and coach out of the cave," the SEALs posted, referring to the name of the youngsters' soccer team.
The boys, 11 to 17, and their 25-year-old coach were exploring the cave after soccer practice June 23 and became stranded when monsoon rains filled passageways with water.
Their plight has riveted Thailand and much of the world — from the heart-sinking news that they were missing to the first flickering video of the huddle of anxious yet smiling boys when they were found 10 days later by a pair of British divers.
The risk involved in extracting them from the darkness hit home July 6 when a former Thai Navy SEAL died in the cave after running out of air.
However, with oxygen levels dropping inside the chamber where the team was trapped and a forecast of heavy rain, planners decided by Sunday to attempt the daring rescue, which involved equipping the team with breathing masks and having divers shepherd them through the perilous water to safety.