Good morning Legionnaires and veterans advocates, today is Wednesday, October 23, 2019 which is Event Organizers Day, Swallows Depart From San Juan Capistrano Day, Paralegal Day and National Slap Your Irritating Co-Worker Day.
Editor's Note: Yes, I am prepared to get slapped a lot today. Also, for those who remember that I would be out for two weeks with the Coast Guard, my trip got cancelled because of a fatal plane crash. It was actually the same plane I was supposed to be on as soon as it returned to pick me up, and it closed the entire airport. So you get me back.
This Day in History:
42 B.C.: Marcus Junius Brutus, a leading conspirator in the assassination of Julius Caesar, dies by suicide after his defeat at the second battle of Philippi.
1983: On October 23, a suicide bomber drives a truck filled with 2,000 pounds of explosives into a U.S. Marine Corps barracks at the Beirut International Airport. The explosion killed 220 Marines, 18 sailors and three soldiers. A few minutes after that bomb went off, a second bomber drove into the basement of the nearby French paratroopers' barracks, killing 58 more people. Four months after the bombing, American forces left Lebanon without retaliating.
On October 23, 1989, 23 people die in a series of explosions sparked by an ethylene leak at a factory in Pasadena, Texas. The blasts, which took place at a Phillips Petroleum Company plant, were caused by inadequate safety procedures.
TABLE OF CONTENTS:
If you wish to be removed from this email list, kindly email me at mseavey with "Remove from Daily Clips" in the subject line. If you have received this from someone who forwarded it and would like to be added, email me at mseavey and I will promptly add you to the list, that you might get the daily American Legion News.
Military Times: White House responsible for delayed decision on new Agent Orange diseases, documents show
By: Patricia Kime   58 minutes ago
Two years ago, then Veterans Affairs Secretary David Shulkin decided to add three health conditions to the list of diseases eligible for Agent Orange benefits, but White House officials challenged his authority and impeded enactment, according to internal documents obtained by a veteran through the Freedom of Information Act.
Now tens of thousands of veterans are still waiting.
Shulkin decided to add three health conditions — bladder cancer, Parkinson's-like symptoms and hypothyroidism — to the list of diseases eligible for Agent Orange benefits. Heavily redacted emails and briefings released recently to former Army Spc. Jeff O'Malley, of Pearland, Texas, show Shulkin made the decision sometime before Oct. 3, 2017 — a move that would have given ailing veterans faster access to disability compensation and health benefits.
But the Office of Management and Budget, including Director Mick Mulvaney, and other White House officials objected, according to the documents.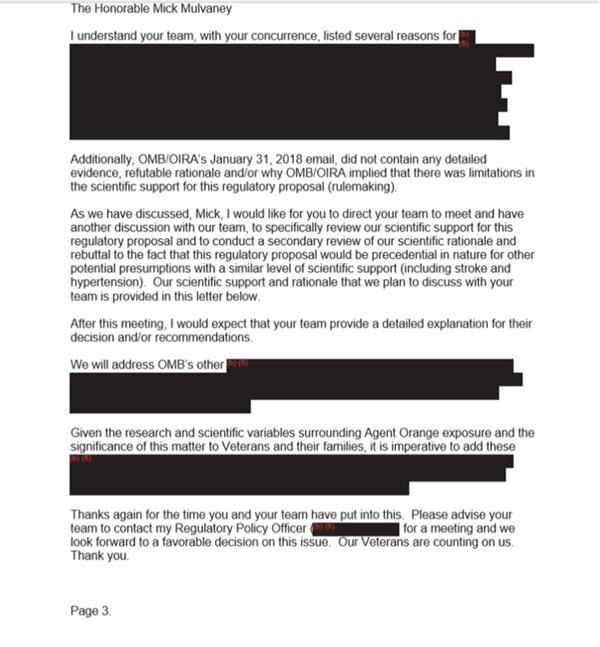 VA Secretary Dr. David Shulkin wrote OMB Director Mick Mulvaney March 8, 2018, requesting support for his effort to expand the list of Agent Orange presumptive diseases.
While the specifics of OMB's opposition were redacted, legible portions show that that the office believed the scientific evidence supporting the proposed additions was limited and it had concerns about the budgetary impact of the expansion, as well as any adverse effects on the existing disability benefits program.
According to the documents, roughly 83,000 veterans are afflicted with one of the three proposed presumptive conditions. The estimated cost for providing disability compensation to these former service members was redacted.
In 2016, scientists with the Institute of Medicine, now known as the National Academies of Sciences, Engineering and Medicine, found there was "limited or suggestive evidence" linking bladder cancer and hypothyroidism to Agent Orange exposure. That represented an upgrade from a previous recommendation that there was an inadequate or insufficient evidence to link the diseases to the toxic herbicides used as defoliants in Vietnam.
The 2016 IOM report also recommended that veterans with "Parkinson's-like symptoms" — not just those diagnosed with Parkinson's — be granted service-connected presumption.
The IOM report was released five months after a provision in the Agent Orange Act of 1991 expired — one that allowed the VA secretary to prescribe regulations for presumption of service connection for diseases, provided the medical and scientific evidence existed.
Knowing the provision had expired, Shulkin cited the VA's general authority to support his decision, citing previous rulings by VA secretaries that awarded benefits for amyotrophic lateral sclerosis, or ALS, and osteoporosis for prisoners of war, even though the IOM said more evidence was needed or there was limited proof of any association.
Shulkin planned to issue a press release on Nov. 1, 2017 — and did — saying he had "made a decision" on the new presumptive conditions and would conduct a regulatory review.
But also that day, Mulvaney and Darin Selnick, who was then serving as veterans adviser on President Donald Trump's Domestic Policy Council, met with Shulkin to discuss the press release and his authority to make the decision, which they questioned given that the Agent Orange Act of 1991 had expired.
"We apparently have confusion around the Agent Orange presumptive," Shulkin wrote in an internal email on Oct. 31. "We are going to have an urgent meeting … I need to understand what is the normal process in the past."
Selnick, a former senior adviser for Concerned Veterans for America and a proponent of expanding private health care options for veterans, was considered a prominent influence in the Trump White House on veterans policy. He left his post on the Defense Policy Council to return as a senior adviser to then Acting VA Secretary Robert Wilkie.
Just days after Shulkin's internal email, in a speech at the National Press Club in Washington, Shulkin said the regulation and rule-making process would begin "in a few short months."
"I think it's a matter of months, not anything longer than that," Shulkin said.
Things appeared to progress smoothly: in the following weeks, VA's director of Regulations Management and representatives from the Veterans Health Administration, Veterans Benefits Administration, and other offices met with officials from OMB Budget, the Office of Information and Regulatory Affairs, the Office of General Counsel and Selnick to discuss the rule-making process, and in emails, Shulkin described the meetings as "productive."
But on Jan. 31, 2018, Shulkin received an email from OMB, which Shulkin said had the support of Mulvaney, that spelled out OMB's objections and made new requests for additional evidence.
Shulkin responded to Mulvaney on March 8, 2018, urging him to support the decision.
"As we have discussed, Mick, I would like for you to direct your team to meet and have another discussion with our team, to specifically review our scientific support for this regulatory proposal … it is imperative to add these [redacted] … our veterans are counting on us," Shulkin wrote.
It's unclear whether Mulvaney replied, but Trump fired Shulkin 20 days later, amid reports that he spent lavishly and erroneously accepted tickets to Wimbledon during an official trip to Europe the previous year.
Trump later said Shulkin was dismissed because he didn't agree with the White House's efforts to expand care for veterans in the private sector.
For many veterans living with one of the three conditions, as well as those with hypertension, which was linked to Agent Orange by the National Academies of Sciences, Engineering and Medicine last November, the wait has been frustrating and financially burdensome.
"The VA seems to drag their feet on these types of issues in hopes we'll all die out before they make a decision," retired Army Sgt. Major John Mennitto wrote Military Times.
"I was in Vietnam from 1968 to 1969 and now have bladder cancer. The VA doesn't want to hear about it," said Hawthorne, California, resident and Navy veteran John Murray, who repaired river patrol boats in Vinh Long.
In November, the NASEM ruled "sufficient evidence" existed for hypertension, more commonly known as high blood pressure, being linked to Agent Orange. Previously, the scientific body had suggested there was only "limited or suggestive evidence" to link it to the herbicide.
The condition was discussed between Shulkin and OMB in the same documents as the other three presumptive illnesses, but the former VA secretary's opinion on whether it should be included was blacked out.
More than 300,000 Vietnam veterans enrolled in VA health care have high blood pressure, which also is an age-related condition. VA officials have previously stated that it would be a challenge to determine who has high blood pressure as a result of exposure to Agent Orange or whether it simply is a factor of their age.
Veterans continue to wait for a decision on the proposed presumptive conditions and lawmakers and veterans advocates alike have pressed VA for answers.
Earlier this year, Veterans Health Administration executive in charge Dr. Richard Stone told Congress he hoped to release a decision on new Agent Orange presumptive conditions would be announced within 90 days. That was in March.
During an interview on Sept. 17, VA Secretary Robert Wilkie said a decision would be forthcoming, but he declined to say when or what the decision was.
On Sept. 25, Dr. Patricia Hastings, VA's chief consultant for post-deployment health told the Senate Veterans Affairs Committee that "those [presumptives] are still with leadership in coordination for the decisions to be made."
According a briefing delivered in May 2018 to the new acting secretary, Wilkie, the department is waiting for the results of two studies — the VHA's Vietnam Veteran Morbidity Study and the Vietnam Mortality Study — before "re-engaging OMB on prescribing presumptions."
Both studies were scheduled to be completed this year, but the results have not been released. In a proposed statement drafted by VA but never released, officials said VA and the administration determined in "late March (2018) that there is insufficient data and information to overcome the limitations in the scientific support for the rulemaking."
"These two studies could produce additional scientific insights into an association between exposure to Agent Orange and stroke, hypertension, hypothyroidism, Parkinson's disease and bladder cancer," the statement noted. "VA is committed to working closely with the administration on the exploration of any new evidence or information that would provide the sufficient scientific support for potential new presumptions."
In his letter to Mulvaney, Shulkin said VA provided OMB with more than 40 scientific studies, peer-reviewed studies and other documents supporting his regulatory proposal. He also noted in private messages to subordinates that he feared the department would not be able to obtain additional "sufficient scientific evidence to support any future presumptions that OMB agrees to."
"We may need to consider other options as well. Congress is adding AO presumptions to the Blue Water Navy House bill," he wrote.
The delay in the regulatory process for the new presumptive diseases coincided with a fight between Congress and VA to award benefits for veterans who served on U.S. Navy ships off the coast of Vietnam; the issues surrounding the "Blue Water Navy" veterans also were discussed in length in the documents and showed the VA, under Shulkin, planned to pursue extending benefits to ill veterans who had served on Navy vessels that entered bays and harbors bordering the country.
Ultimately, Congress passed a law this June extending disability benefits to veterans with an Agent Orange related diseases who served on Navy ships within a 12-mile mapped range of the coast. The VA will begin processing claims applications for blue water Navy veterans beginning Jan. 1.
In an interview with Military Times last week, Shulkin declined to call the holdup on the presumptives "political interference."
Instead, he said the process for adding new conditions is backwards.
"I think we have the obligation to support our veterans first and then, if it takes a while to look at the data, or the data shows something else, then we need to make changes in the policy. But the current policy makes our veterans wait," said Shulkin, who has recently released a book detailing his three years working for VA, "It Shouldn't Be This Hard to Serve Your Country."
Vietnam veteran O'Malley, who has uncontrolled hypertension, said he can't help interpreting the back-and-forth in the documents as anything but political maneuvering.
"What they really want to say is 'we're not approving anything, we are not going to spend an extra penny on Agent Orange than we have to,'" O'Malley said. "They have figured out every possible way of delaying … I don't believe Secretary Wilkie would intentionally shut down benefits for veterans, but I do believe Mr. Mulvaney would shut down any process that would add a penny to the budget."
"Dr. Shulkin wanted to do this and the White House didn't. The longer they delay, the fewer veterans they will have to provide benefits for," O'Malley said.
Military Times Deputy Editor Leo Shane contributed to this report.
Military Times: US military struggles to find a strategy amid sudden policy changes in CENTCOM region
By: Howard Altman , Meghann Myers , and Shawn Snow   12 hours ago
487
The rapid withdrawal of U.S. forces from northeast Syria, which included U.S. forces bombing their own equipment at the bases they hastily left behind, is a vivid example of how the U.S. military is being forced to cope with national security and foreign policy decisions announced at the speed of a tweet.
Although President Donald Trump long ago telegraphed his interest in pulling out of Syria and reducing the U.S. military role in other parts of the world, the cascade of events that unfolded after his Oct. 6 conversation with Turkish President Recip Tayyip Erdogan highlights the mounting challenges heaped on military planners and the troops they command.
The spate of sudden decisions from the White House has called into question the future of the five-year fight against Islamic State militants as well as the entire strategy that underpins the U.S. presence in the U.S. Central Command region.
It also highlights the second- and third-order effects of abrupt decisions that so far have included a high death toll of Kurdish-led Syrian Democratic Forces in the Turkish invasion and Iraq's unexpected decision to prohibit U.S. forces leaving Syria to stay in neighboring Iraq. The combination of events threatens to greatly diminish, if not end altogether, the still ongoing fight against Islamic State militants in both Syria and Iraq as the coalition's most effective indigenous partner in Syria is under fire from the coalition's NATO ally.
And with all that taking place, NBC News reported that military planners are developing plans for a rapid drawdown in Afghanistan should Trump make a similar quick decision about the remaining 12,000 troops there.
The tumultuous events of the last 10 days threaten to wash away whatever gains have been made in the past 18 years of war in the U.S. Central Command region and that concerns some of those who once oversaw military planning there.
"There doesn't appear to be much strategy going on at all, aside from piecemeal political decisions," said Mike Jones, a retired Army major general who served as CENTCOM's chief of staff.
"If there was some kind of apparent strategy, then maybe I could make some sense of it. And of course, that's very frustrating, because what the military would love to have is some coherent policy and strategy that it could work from, rather than just discrete planning endeavors to account for whatever the latest idea is."
Syrian exodus
After the U.S. agreed to withdraw troops from northeast Syria to get out of the way of the Turkish offensive, Pentagon officials talked about continuing the fight against ISIS by moving a good chunk of its 1,000 troops there into Iraq.
But that plan was imperiled when Iraq's government announced that those troops were prohibited from moving to Iraq, a move that would have expanded the controversial U.S. military footprint there.
"I'll have that discussion tomorrow with the Iraqi defense minister about the details" of their decision, Defense Secretary Mark Esper told reporters in Saudi Arabia Tuesday. "But the aim isn't to stay in Iraq interminably. The aim is to pull our soldiers out and eventually get them back home."
A few days earlier, the plan was to stage troops in western Iraq to fight ISIS militants in Syria from Iraq. Esper hinted that those operations could include cross-border raids by American commandos backed by U.S. airpower.
Iraq's demand is bad news for those plans, said one former U.S. defense official.
"Since Iraq has all the authority it wants to ask us to leave, we're more or less giving up on exerting [counterterrorism] pressure against the Islamic State in east Syria," a former U.S. defense official told Military Times.
Asked Monday by reporters about the possibility of U.S. troops protecting oil wells in Syria, Esper said that there were already American troops by oil wells in Syria and that those forces were not in the "present phase of withdrawal."
"The purpose of those forces — a purpose of those forces, working with the SDF [Syrian Democratic Forces], is to deny access to those oil fields by ISIS and others who may benefit from revenues that could be earned," Esper said.
Esper explained Monday that a potential option for the president could be how to deny ISIS oil revenue. Esper also said that he has made no decision on any options.
Of importance to U.S. policymakers is a plan to continue to combat ISIS militants in Syria from Iraq.
But if the Iraqi government has its way, U.S. troops withdrawing from Syria may have to exit Iraq almost immediately, complicating any U.S. plan to combat ISIS in Syria.
"Doing effective CT targeting requires proximity, both in terms of intelligence collection and striking the target. If we're moving aircraft/ground forces away from the target area, we not only lose response time, we lose our situational understanding," the former U.S. defense official told Military Times.
Retired Lt. Gen. Mark Hertling, a former U.S. Army Europe commander, tweeted Tuesday that the "Iraqi military says "no permission" US says "plans are 'fluid'." In this situation, "fluid" isn't a good thing."
Esper said that the U.S. was still conducting combat air patrols to protect U.S. forces on the ground in Syria.
Another potential problem is the new rules for U.S. air power imposed by Iraq. U.S. and coalition troops fighting the anti-ISIS campaign in Iraq must now get flights approved daily, following an Aug. 15 order from Iraq's prime minister that all use of Iraqi airspace would have to be pre-approved or else be considered hostile.
A spokesman for Operation Inherent Resolve told Military Times at the time that emergency flights receive blanket approval.
But Iraqi leadership now reviews a daily air tasking order with more detailed information about the types of missions, aircraft and operating areas for each flight, said the spokesman for Operation Inherent Resolve.
Those include pre-planned strike, intelligence, surveillance and reconnaissance, resupply and transit flights inside restricted zones.
"The process we have in place does not increase the risk of compromise for our operations," OIR spokesman Army Col. Myles Caggins III told Military Times at the time. However, officials from the Pentagon, Operation Inherent Resolve and CENTCOM did not immediately respond Tuesday to questions about how those rules would effect any future action against ISIS in Syria launched from Iraq.
National security experts and U.S. officials have criticized Trump's decision to withdraw from Syria, warning that the American power vacuum would breathe new life into ISIS that has recently been relegated to remote rural areas of the desert.
Trump ordered the departure of U.S. forces from Syria following Turkey's launch of military operations to combat the U.S.-backed Kurdish allies who aided the American-led coalition in its fighter to clear northern Syria of the Islamic State. Turkey believes the YPG — a Kurdish militia that falls under the SDF — is a terrorist group.
American officials have urged Turkey to secure the thousands of ISIS prisoners holed up in makeshift SDF prisons in Syria.
Analysts have argued that Turkey does not have the will nor interest to follow through on those concerns expressed by the Pentagon and White House.
"The Turks, Syrians, Iraqis, and Russians won't do it as capably, even if they wanted to do so, so we're assuming extraordinary strategic risk here," the former U.S. defense official said regarding the Syria anti-ISIS fight. "Beyond abandoning the Kurds, we're giving IS [the Islamic State] the space to reconstitute and eventually conduct external operations again."
Moreover, a potential decision by Trump to keep U.S. forces in Syria to guard oil wells could draw American forces into the broader conflict his administration had hoped to avoid.
Those oil fields were the scene of a deadly exchange between U.S. forces and Russian mercenaries in February 2018. American troops embedded with their SDF partners had to call in air support to counter an attack by Russian mercenaries and pro-Syrian regime forces in Deir ez-Zor province, Syria. Nearly 200 enemy fighters were killed in the fight.
Jennifer Cafarella, the research director for the Institute for the Study of War, told Military Times that she does not believe the U.S. will keep troops guarding oil wells in Syria. But, "retaining a presence in Deir ez-Zour may help keep the SDF together and thereby mitigate the ISIS resurgence," she said.
Afghanistan, stay or go
A report from NBC News on Monday said the Pentagon recently began drawing up plans for an abrupt withdrawal of all U.S. troops from Afghanistan in case Trump surprises military leaders by ordering an immediate drawdown there as he did in Syria, according to three current and former defense officials. Military Times could not independently verify that, but the Pentagon on Tuesday told Military Times that the White House hasn't given any orders to kick off a drawdown out of Afghanistan.
Such plans, however, are routinely considered by CENTCOM planners, said Jones, the former chief of staff.
"It may have nothing to do with the wisdom of whether one should withdraw, but certainly, folks are doing plans like that all the time," said Jones, who retired from the Army in 2011 and is now a consultant in Alexandria, Virginia.
A withdrawal plan from Afghanistan would involve removing U.S. equipment, bringing some home, while transferring some to local partners, or — in some cases — destroying it.
"How to dispose of things, as well as the mechanics of scheduling aircraft, shipments of stuff, road convoys to move things and all that," he said. "Obviously, you don't prefer to have to destroy all your equipment because you can't physically get it out based on the timeline that's necessary."
Reports out of northern Syria last week had the U.S. setting ablaze some vehicles while dropping bombs on other equipment, a necessity with the short few days special operations troops were given to evacuate after it became clear Turkey would invade. They destroyed the equipment rather than let it fall into the hands of unfriendly forces.
"There are times when destruction of something is a better option than trying to ship it out," Jones said. "The key is making sure you make those choices deliberately and on a sound basis, rather than being forced into it."
On Monday, the New York Times reported that the U.S. has already quietly withdrawn about 2,000 troops from Afghanistan. That news came days after Esper told reporters traveling with him to Afghanistan that a withdrawal of U.S. troops in Afghanistan would be "conditions based." However, he said the U.S. believes only 8,600 troops are necessary to keep up current counter-terrorism operations.
Army Lt. Col. Thomas Campbell, a defense department spokesperson, told Military Times that there are currently about 13,000 U.S. troops in Afghanistan.
"While the number of U.S. forces in Afghanistan fluctuates regularly due to troop rotations and conditions on the ground, there have been no changes to DoD's mission or to our commitment to our security partnership with the Government of Afghanistan," Campbell said.
The other key component of an Afghanistan exit is, of course, the massive investment U.S. troops have made in training Afghanistan's security forces.
Of the five regional train-advise-assist commands, the U.S. is responsible for two. Turkey, Germany and Italy are taking the lead in the others.
"Right now, it's our judgment that the Afghans need support to deal with the level of violence today," Marine Gen. Joseph Dunford, chairman of the Joint Chiefs of Staff at the time, told reporters Aug. 28 in a Pentagon briefing. "If an agreement happens, that could change."
President Trump in September axed the conditions-based withdrawal agreement with the Taliban that U.S. diplomats had been working on all year.
Afghan officials, who were not included in the multiple meetings held between the U.S. and the Taliban in Qatar throughout most of 2019, had expressed concern about the U.S. pulling out and leaving them to fight the Taliban alone.
"Frankly, I don't know how you do that. You can spin it any way you want, but at the end of the day … any time you just say, 'Our goal is no longer your success, our goal is to leave' — I don't think there's any way to tell somebody that that doesn't cause them to be unhappy and bitter," Jones said.
According to a June report from the Pentagon, Afghan national force are making progress in their ability to fight insurgents on their own, but are still far from being totally independent.
They are at the mercy of political decisions, Jones said. It's possible to speed up their progress, but it's a huge commitment.
"You can accelerate the rate at which you increase someone's capability," he said. "But in order to do that, it requires a much higher level of commitment than the United States has been willing to make. We have done it at the pace of the resources that were available, and not at the pace of what could be done."
One former military official with knowledge of the region said that a hasty withdrawal would be disastrous for the current Afghan government and greatly reduce the U.S. ability to influence events in the region.
The former official added that maintaining a presence at Bagram Air Base is essential for any future fight against Iran.
"Bagram is an enormous military hammer on the other side of Iran," said the former official. "They can't react to both sides. The strike time from Bagram is very short if we have to do something."
Campbell said the Pentagon has not received any orders to draw down U.S. troops in Afghanistan and future reductions would be "conditions-based."
CNN: Exclusive: Defense secretary says troops in Syria will 'temporarily' go to Iraq before returning to US
By Devan Cole and Ryan Browne, CNN
Updated 3:05 PM ET, Tue October 22, 2019
Washington (CNN)Defense Secretary Mark Esper said Tuesday that American troops ordered out of northern Syria will "temporarily" go to Iraq before they return to the US, and that President Donald Trump has not yet approved a plan to keep some troops in Syria to protect oil fields.
"We're conducting a phased withdrawal — deliberate phased withdrawal from northeast Syria," Esper told CNN's Christiane Amanpour in an exclusive interview held at the Prince Sultan Air Base, located in a desert area east of the Saudi capital of Riyadh. "We will temporarily reposition in Iraq pursuant to bringing the troops home. And so it's just one part of a continuing phase, but eventually those troops are going to come home."
The Iraqi Joint Operations Command said in a statement Tuesday that US troops withdrawing from Syria may enter the Kurdish region of Iraq and then leave the country, but that they do not have permission to remain in Iraq.
The comments come as Esper leads the removal of US troops from northern Syria, where they had been supporting the SDF. After Trump announced the withdrawal of the troops from the region earlier this month, a move that was met with a strong bipartisan rebuke, Turkey began a widely-anticipated offensive there, which eventually slowed after the US brokered a ceasefire between the two countries last week. On Monday, the secretary said some troops will temporarily remain in Syria to protect oil fields in the country as the Pentagon continues to remove other troops from the country.
"Right now, the President has authorized that some would stay in the southern part of Syria," Esper said. "And we're looking maybe keeping some additional forces to ensure that we deny ISIS and others access to these key oil fiends also in middle part of the country, if you will. But that needs to be worked out in time. The President hasn't approved that yet — I need to take him options sometime here soon."
Defense secretary says some US troops will temporarily stay in Syria to protect oil fields from ISIS
Asked by Amanpour who the troops would be securing the oil fields from, Esper responded: "I don't talk about securing oil fields as much as I talk about denying ISIS access to the oil fields so that they don't have revenue to continue their bad behavior."
A US official told CNN on Monday that up to several hundred troops may stay in eastern Syria to protect the oil fields and continue the fight against ISIS. Several hundred additional US troops will also remain at a base in At Tanf in southern Syria, a location near the border with Iraq and Jordan that is seen by many analysts as a curb on Iran's influence in the region.
"My aim is to keep my options open and really keep the President's options open, so that as events change on the ground, whether it's up in northeast Syria or other parts, that we have flexibility to respond to the President's direction," Esper said on Tuesday.
Hours before the ceasefire brokered last week is set to run out, Esper told Amanpour that the Kurdish-led Syrian Democratic Forces "are making good faith efforts to withdraw from the area in time" and that "if they need a little bit more time they should be given a little bit more time."
The secretary said that reports he's seen in the last day have shown that the ceasefire "is largely holding," though there "is some skirmishing here and there."
'We're not going to go to war with a NATO ally'
Responding to questions about criticism aimed at the US's decision to withdraw from northern Syria, the secretary said the United States "didn't sign up to fight a war to defend the Kurds against a longstanding NATO ally."
He added later that Turkey "is a longstanding NATO ally," saying, "we're not going to go to war with a NATO ally and certainly not … with regard to a border that we didn't sign up to defend in the first place."
Esper also said that the "11,000 or so" ISIS fighters detained in northeast Syria that some feared would be released when the US troop left the area have mostly remained in prison.
"We've only had reports of a little bit more than 100 that have escaped," he said, adding that the SDF is maintaining guards at the prisons they are in control of.
"So right now we have not seen this big prison break that we all expected, so that's the good news piece," Esper said.
Alleged war criminals 'should be held accountable'
Esper said that he thinks Turkey should be held accountable for alleged war crimes committed by Turkish-backed proxy forces against the Kurds in Syria, allegations that Esper said he assumes are accurate.
"I've seen the reports as well, we're trying to monitor them. They are horrible and if accurate and I assume that they are accurate, they would be war crimes," Esper said, adding, "I think all of those need to be followed up on. I think those responsible should be held accountable, in many cases it would be the government of Turkey — (it) should be held accountable for this because we cannot allow those things to happen."
Several US officials have told CNN that they believe the Turkish-backed proxy force that Ankara is using to spearhead its incursion into Syria is comprised of fighters with ties to extremist groups.
Turkey "could have used Turkish regular troops," a senior US administration official told reporters recently, adding, "Instead they decided to use these thugs and bandits and pirates that should be wiped off the face of the earth."
Those Turkish-led proxies have been accused by the SDF and others of executing unarmed prisoners, including a civilian Kurdish political leader.
CNN's Mick Krever, Christie Johnson, Ana Bickford, Darren Bull, Neil Bennett, Hannah Ritchie and Loren Gruenberger contributed to this report.
WTVY: Vietnam veterans receive homecoming decades in the making
ByBlake Brannon |
Posted: Mon 3:35 PM, Oct 21, 2019
BAY COUNTY, Fla. (WJHG) – Late nights at the airport are typically quiet with red eye travelers making their way back home, but Wednesday night the lobby of Northwest Florida Beaches International was covered in American flags and even a red carpet for a homecoming years in the making.
Jan White and Byron Lester, both Vietnam veterans, were welcomed home with cheers and fanfare from their return trip to Vietnam.
They said they took the trip back to see the changes in the country where they served years ago.
They say it was a different atmosphere from when they came home the first time.
White said, "The last time we came home, we just came home. We didn't know what to do. I saw on television where people were being spit on. We were fighting two fronts, the one at home and the one over there, and that was the sad part. For this to take place almost 50 years later, it's exciting!"
Those welcoming the veterans home say they wanted to give them the homecoming they deserved but never received.
"I was kind of afraid for my traveling companion. I didn't know what he was going to do I thought he was going to run away," said White. "But it's overwhelming. Overwhelming is the only thing I can say."
Jan's son also made the trip to see some of the changes the country's made in the last few decades.
"I didn't know what to expect. When I left there I don't remember any high-rises, five-story buildings. Now there are buildings 35 stories high," said White.
The P.O.W flag synonymous with the Vietnam War reads "You are not Forgotten" and through the applause and a little Creedence Clearwater Revival, Jan and Byron surrounded by friends and family, never felt forgotten.
"I'm glad I'm home." said White. "This is where we need to be."
The years may have passed but the veterans love for their country and their family's love for them never wavered.
Copyright 2019 WJHG. All rights reserved.