Good morning Legionnaires and veterans advocates, today is Monday, February 4, 2019 which is LiberaceDay, Rosa Parks Day, USO Day and National Thank A Mailman Day.
#StillHere.
I'll keep my celebrating to a dull roar, but this clips brought to you by the letters "G", "O", "A" and "T".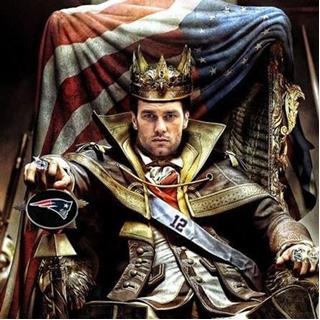 And yes, that was a horrible, boring game.
This Day in History:
On February 4, 1974, Patty Hearst, the 19-year-old daughter of newspaper publisher Randolph Hearst, is kidnapped from her apartment in Berkeley, California, by two black men and a white woman, all three of whom are armed. Her fiance, Stephen Weed, was beaten and tied up along with a neighbor who tried to help. Witnesses reported seeing a struggling Hearst being carried away blindfolded, and she was put in the trunk of a car. Neighbors who came out into the street were forced to take cover after the kidnappers fired their guns to cover their escape.
1789: George Washington, the commander of the Continental Army during the Revolutionary War, is unanimously elected the first president of the United States by all 69 presidential electors who cast their votes. John Adams of Massachusetts, who received 34 votes, was elected vice president. The electors, who represented 10 of the 11 states that had ratified the U.S. Constitution, were chosen by popular vote, legislative appointment, or a combination of both four weeks before the election.
On this day in 1826, The Last of the Mohicans by James Fennimore Cooper is published. One of the earliest distinctive American novels, the book is the second of the five-novel series called the "Leather-stocking Tales."
TABLE OF CONTENTS:
If you wish to be removed from this email list, kindly email me at mseavey with "Remove from Daily Clips" in the subject line. If you have received this from someone who forwarded it and would like to be added, email me at mseavey and I will promptly add you to the list, that you might get the daily American Legion News.
Stripes: Pentagon sending another 3,750 troops to southwestern border
By ASSOCIATED PRESS
Published: February 3, 2019
WASHINGTON — The Pentagon said Sunday it will send 3,750 more troops to the U.S.-Mexico border to put up another 150 miles of concertina wire and provide other support for Customs and Border Protection.
The additions will bring the total number of active-duty troops on the border to 4,350.
The announcement is in line with what Acting Defense Secretary Pat Shanahan had said on Tuesday when he provided estimates for the next phase of a military mission that has grown in size and length. Critics have derided it as a political ploy by the White House as President Donald Trump seeks billions of dollars to build a border wall.
Shanahan said Tuesday that several thousand more troops would be sent mainly to install additional wire barriers and provide a large new system of mobile surveillance and monitoring of the border area. Sunday's announcement said the mobile surveillance mission would last through Sept. 30.
Members of Congress have question whether the border mission is distracting troops from their main work of fighting extremists abroad and training for combat. The first active-duty troops were sent to the border about Oct. 30 for a mission that was to end Dec. 15. It has been extended twice since.
"What impact does it have to readiness to send several thousand troops down to the Southern border? It interrupts their training. It interrupts their dwell time," Rep. Adam Smith, D-Wash., chairman of the House Armed Services Committee, said at a hearing on Tuesday.
Vice Adm. Mike Gilday, the director of operations for the Joint Staff, told the panel that he does not believe military readiness has been affected significantly. He said some units have missed training opportunities because of the deployment and others have seen less time at home between deployments than the military likes to provide.
But he said there is an effort to rotate servicemembers in and out of the mission every six to eight weeks in order to minimize any impact.
Navy Times: War crimes prosecution against Navy SEALs takes a double hit
By: Carl Prine   1 day ago
AddThis Sharing Buttons
Share to FacebookShare to TwitterShare to EmailShare to More6.8K
A Navy SEAL who allegedly staged a re-enlistment ceremony over the body of a dead Islamic State prisoner during the Battle of Mosul in Iraq and also hovered a drone over the corpse may have acted in "poor taste" but didn't commit a war crime, a Navy judge has ruled.
On Friday, two military judges delivered a pair of big wins for two Navy SEALs on trial for alleged war crimes by tossing out key charges against the special operator at the center of the case, Chief Special Warfare Operator Edward "Eddie" Gallagher, and the officer in charge of his platoon, Lt. Jacob X. "Jake" Portier, who stands accused of covering up the incidents.
Gallagher is accused of stabbing to death a wounded Islamic State prisoner of war and attempting to shoot innocent civilians with his sniper rifle near Mosul in 2017.
Also among the allegations is that Gallagher staged the re-enlistment ceremony over the dead ISIS teenager's body near the Iraqi city of Mosul on May 3, 2017, amid some of the U.S. forces fiercest fighting against ISIS in Iraq. Prosecutors also say he hovered a drone over the body.
But the military judge, Navy Capt. Aaron Rugh, determined that those are not prohibited acts under Article 134 of the Uniform Code of Military Justice.
That ruling is also likely to be a big win for platoon leader Portier, who also faces a raft of charges alleging that he covered up his chief petty officer's war crimes.
Military prosecutors charged Portier with lying to his superior officer, Lt. Cmdr. Robert Breisch, about whether he saw "anything criminal" at Gallagher's reenlistment ceremony. Portier allegedly said: "There was nothing criminal. It was just in poor taste," according investigative files obtained by Navy Times.
If the judge overseeing Portier's separate court martial case agrees with Rugh, however, then Portier told the truth and his charge must be tossed out, too.
"It is honorable for a Navy SEAL to reenlist on the battlefield, the same battlefield where he was willing to sacrifice his own life to protect our nation," Portier's civilian defense attorney, Jeremiah J. Sullivan III, told Navy Times.
Defense News: Senators warn Pentagon to keep the audit going
By:Aaron Mehta andJoe Gould   2 days ago
40
WASHINGTON — Amid the reshuffling of the Defense Department's senior leaders, 26 senators from both sides of the aisle are urging the acting defense secretary not to drop the ball on the Pentagon audit.
The Jan. 30 letter from members of the Senate Armed Services and Budget committees, comes as the point man on the audit, Pentagon Comptroller David Norquist, has been moved up to serve as acting deputy defense secretary. The Pentagon's No. 2, Patrick Shanahan, has been acting defense secretary since Jim Mattis exited Jan. 1.
"It is imperative that subsequent, annual audits continue as planned," reads the letter addressed to Shanahan. The lead authors are Sens. David Perdue, R-Ga., and Angus King, a Maine Independent who caucuses with Democrats. Perdue chairs the Senate Armed Services Subcommittee on Seapower, and King is the ranking member of the Subcommittee on Airland.
While the lawmakers do not mention the shakeup at the Pentagon, they do ask that Shanahan commit to completing the full audit of the Defense Department within fiscal 2019, which ends in eight months, on Oct. 1.
After decades of Congress demanding action, the Pentagon completed its first-ever audit last year. The audit consisted of 21 individual efforts, with only five of those receiving "passing" grades — technically, a failing grade. However, department officials say there was no expectation that the audit would be clean on the first go-round, given the size and scope of the project.
In the letter, the lawmakers welcomed the Pentagon's completion of its first-ever audit, as required by 1990 law, but they also pressed Shanahan, saying that "more progress must be made to reach a clean opinion."
The good news for the senators? Speaking to press earlier this month, Norquist said: "We have already started the second audit of the department's financial statement, and we will keep doing this, year after year because the accountability is worth it."
The first audit was focused on getting the lay of the land, in some cases quite literally, by identifying what systems are talking to one another and where there may be gaps in inventory tracking. Now, in year two, Norquist has three target areas on which to focus.
The first is structural inventory on bases — knowing what buildings are really there, and in what shape. The second is improving inventory tracking to understand the location and age of equipment. "The direct benefit to readiness is so clear that we want to make sure that we keep that up," Norquist said.
The third focus is on the security of information technology, which Norquist said late last year was the biggest issue identified by the first audit, and something he called a "multiyear" problem to tackle.
Lawmakers noted the audit and related fixes have cost taxpayers $972 million. Perdue, a former businessman, has pressed Pentagon officials before about how quickly it will be able to remediate weaknesses found in the audits. In March, he told Norquist at a Budget Committee hearing: "Ten years is outrageous, it's too long. There's no public corporation that would be allowed 10 years to remediate."
Norquist acknowledged evening out those sums of money will not be a one-year solution, but urged patience in his comments.
"What we will see over time is the sum of the efficiencies that we discussed will make the audit clearly worthwhile. There's not a pot of gold. There is not $5 billion or something sitting somewhere to be found through the audit," he said. "Like most things in government, the real [value] comes from steady, sustained focus on improving the efficiencies."
"We don't need the audit to be the department's priority. It just has to stay a department priority, and then you can keep moving forward," Norquist added.
Beyond King and Perdue, the letter is signed by the Senate Budget Committee's chairman, Sen. Mike Enzi, R-Wyo.; ranking member Sen. Bernie Sanders, I-Vt.; and members Mike Crapo, R-Idaho; John Kennedy, R-La.; Ron Johnson, R-Wis.; Pat Toomey, R-Pa.; Chris Van Hollen, D-Md.; and Ron Wyden, D-Ore.
The following SASC members also signed: Sens. Marsha Blackburn, R-Tenn.; Richard Blumenthal, D-Conn.; Mike Braun, R-Ind.; Tom Cotton, R-Ark.; Kevin Cramer, R-N.D.; Tammy Duckworth, D-Ill.; Joni Ernst, R-Iowa; Tim Kaine, D-Va.; Doug Jones, D-Ala.; Joe Manchin, D-W.V.; Gary Peters, D-Mich.; Mike Rounds, R-S.D.; Rick Scott, R-Fla.; Jeanne Shaheen, D-N.H.; Dan Sullivan, R-Alaska; and Elizabeth Warren, D-Mass.
Military Times: This week in Congress: State of the Union and the start of military budget planning
By:Leo Shane III   9 hours ago
26
WASHINGTON — While the president visits Capitol Hill to deliver his delayed State of the Union address this week, the defense lawmakers will begin their work on the annual military authorization bill.
Most of that planning will be pushed back until after the formal release of President Donald Trump's fiscal 2020 budget proposal, expected later this month. But this week, Senate Armed Services Committee member will start the process of putting together the massive policy bill by hearing testimony from leaders at Central Command, Africa Command and Southern Command.
House Armed Services Committee members will review Pentagon counterterrorism strategy on Wednesday, with an eye towards similar military topics in coming weeks.
Last year, the annual defense authorization bill was finalized in August, months ahead of the typical schedule for the legislation. Lawmakers are pessimistic about meeting that same timeline this year, given divided party control of the two chambers and significant philosophical differences between the two committee's leadership.
Tuesday, Feb. 5
Senate Armed Services — 9:30 a.m. — 216 Hart
Central Command
Gen. Joseph Votel, head of U.S. Central Command, testifies before the committee on challenges facing his command and national security.
Senate Appropriations — 10:30 a.m. — Location TBD
VA electronic health records
The subcommittee on Veterans Affairs will hear from VA officials on progress with efforts to upgrade the department's electronic health records system.
Senate Armed Services — 10 a.m. — 216 Hart
Worldwide threats
Director Of National Intelligence Dan Coats and Defense Intelligence Agency Director Lt. Gen. Robert Ashley Jr. will testify before the committee on current national security threats.
House Armed Services — 10 a.m. — 2118 Rayburn
Counterterrorism
Pentagon officials will testify before the committee on the Defense Department's counterterrorism strategy and looming challenges.
Senate Armed Services — 2:30 p.m. — Visitor Center S217
Closed hearing
The committee will hear from Army officials on readiness concerns in a closed session.
House Appropriations — 10 a.m. — H-140 Capitol
Military quality of life
The subcommittee on military construction will hear from Pentagon officials on military quality of life issues.
Senate Armed Services — 10:15 a.m. — G-50 Dirksen
Africa Command and Southern Command
The head of both commands will testify before the committee on threats and challenges for their missions.
Senate Foreign Relations — 2 p.m. — S-116 Capitol
Organizational meeting
The committee will hold its first session of the year to approve membership and rules.
Stripes: Trump says he has 'no plans' to withdraw US troops from S. Korea
By KIM GAMEL | STARS AND STRIPES
Published: February 3, 2019
SEOUL, South Korea — President Donald Trump said in an interview broadcast Sunday that he has "no plans" to withdraw U.S. forces from South Korea as he prepares for another summit with North Korea's leader.
The president has frequently complained about the expense of maintaining servicemembers on the divided peninsula. Seoul and Washington are involved in a standoff over sharing the cost, raising concern the president may move to pull them out.
But Trump told CBS News the issue hasn't come up.
When asked if he would keep U.S. troops in South Korea, Trump said: "Yeah. I mean we haven't talked about anything else."
"Maybe someday. I mean, who knows. But, you know, it's very expensive to keep troops there. You do know that," he added. "We have 40,000 troops in South Korea. It's very expensive, but I have no plans. I've never even discussed removing them."
It's not clear why he gave the number 40,000. Some 28,500 U.S. servicemembers are stationed in South Korea, although the military says that number fluctuates due to rotation and other factors.
He also reiterated that plans for a second summit with North Korean leader Kim Jong Un have been set and said he'll announce the time and place either during his State of the Union address Tuesday "or shortly before."
The U.S. special envoy for North Korea Stephen Biegun arrived Sunday in South Korea for talks expected to focus on summit planning.
The United States and South Korea have been allies since they fought together in the 1950-53 Korean War, which ended in an armistice instead of a peace treaty.
The two countries, however, have disagreed in recent months over the troop-funding issue as well as the approach to nuclear talks with North Korea.
The negotiations have been stalled since Trump met with North Korean leader Kim Jong Un on June 12 in Singapore. The leaders agreed to the general principle of denuclearizing the Korean Peninsula but not the details about how to do so.
In the past, Pyongyang has demanded the removal of the U.S. nuclear threat including the troops. South Korean President Moon Jae-in, who has acted as a mediator between the rivals, has said Kim understood that troop numbers weren't on the table.
But Trump, who is known for his unpredictable leadership style, agreed after the last summit to suspend joint military exercises with South Korea in a concession to the North, which considers the annual drills a rehearsal for an invasion.
Reflecting concern, a bipartisan group of lawmakers introduced a bill in the House last week that would restrict funds for the Pentagon to reduce the number of troops in South Korea below 22,000, unless the defense secretary certifies that it could be done without any adverse effects on national security or the defense of South Korea.
The U.S. has insisted it will maintain economic sanctions against the North until "final, fully verified denuclearization" is achieved. North Korea wants a reciprocal approach in which it is rewarded for steps already taken, including the suspension of nuclear and missile tests.
Meanwhile, satellite images and intelligence assessments have shown that the communist state continues its weapons program.
Director of National Intelligence Dan Coats also told a Senate committee that Kim will seek to retain his nuclear weapons and production capabilities because he views them as critical to regime survival.
Trump insisted progress has been made, citing the release of Americans who had been detained in the North and the return of the remains of soldiers killed in the war.
"There's a good possibility of that, too," he said when asked about the comments from Coats. "But there's also a very good chance that we will make a deal."
gamel.kim
Twitter:@kimgamel