American Legion Daily News Clips 11.7.19
Good morning Legionnaires and veterans advocates, today is Thursday, November 7, 2019 which is Hug a Bear Day, Notary Public Day, National Men Make Dinner Day and International Stout Day.
SONNET TRIBUTE: GUINNESS IRELAND
Ye got to Fancy this Hearty Stout, Aye,
Soot-soaked with tub-flavoured Laurels of Gold
Now bloke-haste Juggers tick your nerves on-high
And make ye shout the Trumpet-Football-Fold
Yet so, our Celtic Spirit comes to call
For you to Jig their Post-Victorious Dance
Or, if upset, prefer to keep knees on hold
And hope such Font will get you that Romance
Still, never deny those After-Glugs won't count
In palling the Bet for Arsenal's Wear
Sudden Death Match will cause the Team to Mount
And show those Charbarrels a Reason to Tear.
Raise a Swig, to where there Brave Captains be
I take me Share, and drink the Sailor in me.
Today in Legion History:
· Nov. 7, 2000: Texas and Alabama Air National Guard veteran George W. Bush is elected 43rd president of the United States. A member of John R. Burkett-Beverly E. Miller American Legion Post 77 in Houston, he leads within his first year the nation's military response to the terrorist attacks of Sept. 11, 2001, and serves as commander-in-chief for Operations Enduring Freedom in Afghanistan and Iraqi Freedom in Iraq.
This Day in History:
· This date in 2000 was a pivotal moment in U.S. history, as the presidential election results in a statistical tie between Democrat Al Gore and Republican George Bush. The results in Florida were unclear by the end of election night and resulted in a recount and a Supreme Court case, Bush v. Gore, which ended the dispute in favor of Bush a month later. The election exposed several flaws and controversial elements of the American electoral process and was the fourth of five U.S. presidential elections in which the winner lost the popular vote.
· On November 7, 1916, Montana suffragist Jeannette Rankin is elected to the U.S. House of Representatives. She is the first woman in the history of the nation to win a seat in the federal Congress.
TABLE OF CONTENTS:
· Military Times: Esper: 'Robust' conversation with Trump about proposed pardons for SEAL, two soldiers
· Defense News: White House says it will prevent government shutdown on this one condition
· Military Times: Top military appeals court to review Bergdahl case for interference by Trump and McCain
· Military.com: Here's a New, Fast Way for Veterans to See Their Health Records
· Military.com: VA Plans to Resolve all 'Legacy Appeals' by the End of 2022
· Military Times: Lone living Medal of Honor recipient from Iraq wants more recognition for the heroes of that fight
If you wish to be removed from this email list, kindly email me at mseavey with "Remove from Daily Clips" in the subject line. If you have received this from someone who forwarded it and would like to be added, email me at mseavey and I will promptly add you to the list, that you might get the daily American Legion News.
Military Times: Esper: 'Robust' conversation with Trump about proposed pardons for SEAL, two soldiers
By: Meghann Myers   20 hours ago
AddThis Sharing Buttons
Share to FacebookShare to TwitterShare to EmailShare to More843
Defense Secretary Mark Esper has talked to President Donald Trump about the commander in chief's plan to potentially pardon two soldiers and a sailor, an action CNN reported Wednesday is intended to serve as a Veterans Day gesture.
Navy Times reported Monday that Trump discussed restoring SEAL Edward "Eddie" Gallagher's pay grade to chief petty officer, a week after a demotion to petty officer first class was allowed to stand.
The president also has mulled pardoning Army 1st Lt. Clint Lorance and dropping the case against Maj. Mathew Golsteyn, Navy Times indicated.
"I'm not going to comment on that," Esper told reporters at the Pentagon on Wednesday. "As you know, I'm in the chain of command and I'm very conscious of my remarks. But I do have full confidence in the military justice system and we'll let things play out as they play out."
Esper added that he met with Trump on Tuesday and had a "robust" conversation about the proposed pardons.
"I offered ― as I do in all matters ― the facts, the options, my advice, the recommendations and we'll see how things play out," he said.
The Gallagher announcement came via Fox & Friends broadcast Monday morning, surprising Pentagon officials and motivating them to intervene by sending a packet of information on the cases to the White House, according to CNN.
While Gallagher was acquitted of murder and obstruction of justice charges in July, his military jury recommended he be reduced in grade for posing with the body of a detainee, a crime he never denied.
Under Navy regulations, he had faced an automatic reduction to E-1 because his sentence included time behind bars — which he'd already served twice over in pretrial confinement.
But last week Chief of Naval Operations Adm. Mike Gilday followed the recommendation of the panel of Gallagher's peers to leave him at E-6.
Lorance's case dates back to a 2012 deployment to Afghanistan, when he ordered his soldiers to fire on three unarmed men riding a motorcycle near their patrol. Members of his platoon testified against him at a court-martial trial, describing Lorance as over-zealous and the Afghans as posing no threat to the soldiers.
Sentenced to 19 years prison at Fort Leavenworth, Kansas, Lorance and his family had waged a long campaign against his sentence. His mother made an unanswered appeal to President Barrack Obama in 2016, earning support from combat veteran Rep. Duncan Hunter, R-Calif., who left the Marine Corps as a major.
Golsteyn's case has not yet been decided, as he is scheduled for a December trial on charges he murdered an alleged Taliban bomb maker, and burned his remains in a trash pit during a 2010 deployment with 3rd Special Forces Group.
Trump has exercised his pardoning powers often during his administration, including in the case of another soldier earlier this year. Former 1st Lt. Michael Behenna had been paroled from Leavenworth in 2014, after receiving a 15-year sentence for murdering an alleged al-Qaida operative in Iraq in 2009.
And in 2018, he pardoned former Machinist's Mate 1st Class Kristian Saucier, who spent a year in jail after pleading guilty in 2016 to taking cell phone photos of his work space on board the attack submarine Alexandria ― prohibited, as the entirety of a submarine is considered a classified area.
Though presidential pardons for Uniform Code of Military Justice offenses are rare, they are not unprecedented. In 2017 President Obama commuted the death sentence of former Army Pfc. Dwight Loving, who was convicted in the 1988 shooting deaths of two taxi drivers after an armed robbery spree in Killeen, Texas, to life without parole.
Presidents Dwight Eisenhower and Gerald Ford both intervened on the results of the same court-martial, the case of Army Master Sgt. Maurice Schick, who murdered an 8-year-old girl at Camp Zama, Japan, in 1954.
Eisenhower commuted his death sentence to life without parole, while Ford upgraded it to life with the possibility of parole.
Defense News: White House says it will prevent government shutdown on this one condition
By: Joe Gould  22 hours ago
WASHINGTON — To avoid a government shutdown, U.S. President Donald Trump would sign a stopgap spending bill, so long as it does not restrict his ability to build his border wall, a senior White House adviser told reporters Tuesday.
With government funding due to expire Nov. 22 and talks to reach a bipartisan spending deal dragging, Congress is expected to draft another stopgap spending bill. Trump's legislative affairs director, Eric Ueland, said Trump is likely to sign a continuing resolution, or CR, into December.
"He wants to see a clean CR that does not impede him in any way or tie his hands in carrying out his policy priorities," Ueland told reporters at the Capitol on Tuesday.
The comments come as Democrats and Republicans appear to have narrowed their differences on the length of the CR. Senate Majority Leader Mitch McConnell, R-Ky., and House Speaker Nancy Pelosi, D-Calif., have discussed Dec. 31 as a goal to reach an agreement to fund the government.
To kick-start funding talks, which have stalled around the U.S.-Mexico border wall and funding allocations, Senate Appropriations Committee Chairman Richard Shelby, R-Ala., said he would like a face-to-face meeting with House Appropriations Committee Chairwoman Nita Lowey, D-N.Y.
Shelby said he would prefer a continuing resolution that's free of policy riders. But if Trump were given a CR he was disinclined to sign because it contained border wall restrictions, Shelby explained, the lawmaker would advise the president to avoid a shutdown.
"I would say to anybody, including the president, let's don't shut the government down," Shelby told reporters Tuesday.
Though Shelby had floated the idea of a CR into the spring, he said Tuesday he is in favor of a CR that ends in December to buy time for talks to progress.
The Senate Appropriations Committee's top Democrat, Sen. Patrick Leahy of Vermont, said the White House has been making shifting demands.
"The difficult thing is it's almost as though the White House can't focus or don't want to focus," Leahy said. "Why don't we just do it all, bring it up and say: 'Vote it up or vote it down.' "
Military Times: Top military appeals court to review Bergdahl case for interference by Trump and McCain
By: Patricia Kime  19 hours ago
The U.S. Court of Appeals for the Armed Forces has granted former Sgt. Bowe Bergdahl a review of his case to determine whether its outcome was affected by comments made by President Donald Trump or other alleged examples of unlawful command influence.
The court announced Nov. 4 that it will consider Bergdahl's request for his sentence to be dismissed or other relief granted based on unlawful command influence. In July, the Army Court of Criminal Appeals upheld Bergdahl's guilty plea and sentence, saying that comments made by Trump after he became president about Bergdahl, as well as those made by Sen. John McCain, did not sway the outcome of the proceedings.
Bergdahl left his post in Paktika province, Afghanistan, in 2009, was captured by a Taliban affiliate and held for five years. After he was repatriated in 2014, he pleaded guilty to desertion and misbehavior before the enemy and requested and received a dishonorable discharge. He also was sentenced to a reduction in rank to private and forfeiture of pay of $10,000.
During the proceedings, while Trump was a presidential candidate, he called Bergdahl a "dirty rotten traitor" and suggested the soldier be executed by firing squad or thrown out of an airplane over Afghanistan without a parachute.
After he became president, Trump made several references to those comments and McCain threatened hearings if Bergdahl received no punishment.
As a result, Bergdahl's defense team, led by veteran military defense attorney Eugene Fidell, appealed, saying the comments constituted unlawful command influence and were so pervasive, Bergdahl didn't receive a fair trial or post-trial processing.
But while the comments may have been improper, Army Court of Criminal Appeals judges said, the ruling in Bergdahl's case was "fair and unprejudiced" and should remain in place.
"There was some evidence of unlawful command influence adduced at trial and in the post-trial process," the judges wrote in their decision, but not to an extent that rose to the level of "intolerable strain" on the justice system, they added.
The ACCA decision, however, was not unanimous. In his dissent, Judge James Ewing wrote that in their argument before the court on June 27, Army prosecutors did not prove without a doubt that unlawful command influence did not taint the proceedings.
He said he would support dismissing Bergdahl's dishonorable discharge, which would "thus purge the taint of post-trial unlawful command influence that emanated from the president's day of sentencing tweet."
On Nov. 3, 2017, the date Bergdahl's sentence was announced, Trump tweeted "The decision on Sgt. Bergdahl is a complete and total disgrace to our country and to our military"
Bergdahl's desertion launched a massive manhunt that a military judge later determined caused serious injuries to several service members involved in the search.
The human and monetary cost of the search, along with his repatriation in 2014 – the result of a trade for five Taliban members held at the military detention center in Guantanamo Bay, Cuba — touched off a firestorm in national politics and within the ranks.
The controversy over Bergdahl was chronicled in the second season of the podcast "Serial."
Bergdahl told filmmaker Mark Boal that he left his post to call attention to his unit, which he felt was poorly managed. But troops continue to question his motives and blame him for placing them in danger during the search for him and causing undue stress during a period of high operations tempo.
CAAF has not set a date for the appeals hearing. With the review granted, Bergdahl's attorneys have 30 days to file their argument, with the option to request extensions. The government then has at least 30 days plus any requested extensions, to file a response.
The CAAF then will place the hearing on the calendar, with a goal of setting the date within 20 days of receiving the government's response.
Military.com: Here's a New, Fast Way for Veterans to See Their Health Records
6 Nov 2019
Military.com | By Amy Bushatz
A new integration between the Department of Veterans Affairs and Apple lets veterans easily access their VA health records from their iPhone.
Using the Health app, which is automatically installed on iPhones as part of Apple's package of applications, veterans can sign up to integrate their health records into the app's database.
The capability first rolled out late last month, although the VA did not officially announce it until Nov. 6.
"We have delivered Veterans an innovative new way to easily and securely access their health information," VA Secretary Robert Wilkie said in a news release. "Veterans deserve access to their health data at any time and in one place and, with Health Records on the Health app, VA has pushed the Veterans experience forward."
So how easy is it to use? Our test found that as long as you have your VA.gov log-in handy, the process is basically seamless.
To set it up, veterans will first need to open the "Health" app. Once inside, they should scroll down to "Access Your Records," and then tap "Get Started."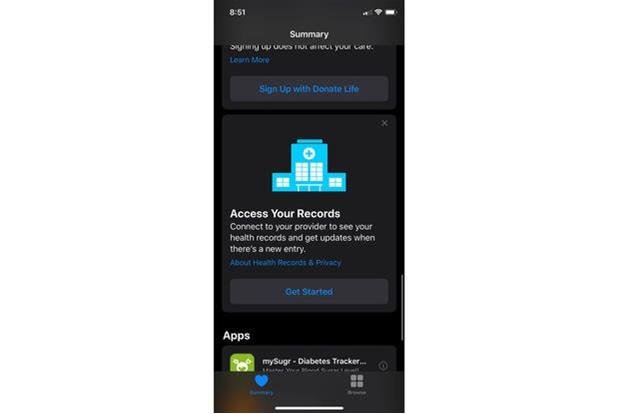 That will lead them to a search page. By searching "VA," they can pull up and then tap the "Dept. of Veterans Affairs (VA)" option, then tap "connect account."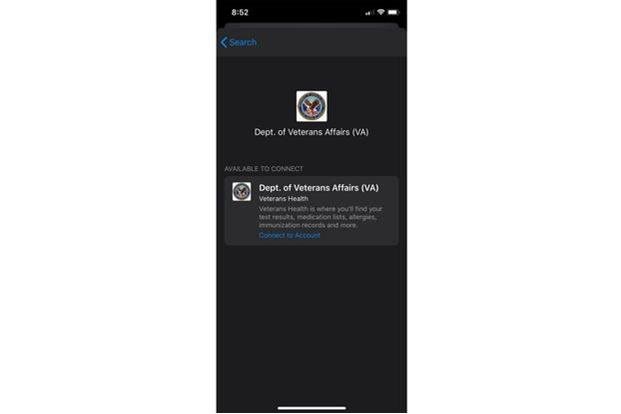 From there, it's as easy as signing into VA.gov and granting your iPhone permission to access the records. After the process is complete, all of the records in the online system will be viewable from the app.