American Legion Daily News Clips 3/26/18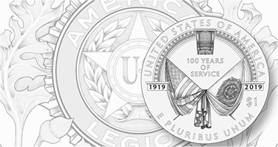 From: Seavey, Mark C. [mailto:mseavey@legion.org]
Good morning Legionnaires and veterans advocates, today is Monday, March 26, 2018 which is Legal Assistants Day, Purple Day, National Spinach Day and Solitude Day.
This Day in History:
· 1979: In a ceremony at the White House, Egyptian President Anwar el-Sadat and Israeli Prime Minister Menachem Begin sign a historic peace agreement, ending three decades of hostilities between Egypt and Israel and establishing diplomatic and commercial ties.
· 1969: A group called Women Strike for Peace demonstrate in Washington, D.C., in the first large antiwar demonstration since President Richard Nixon's inauguration in January. The antiwar movement had initially given Nixon a chance to make good on his campaign promises to end the war in Vietnam. However, it became increasingly clear that Nixon had no quick solution. As the fighting dragged on, antiwar sentiment against the president and his handling of the war mounted steadily during his term in office.
· An earthquake felt from Mexico to Oregon rocks the Owens Valley in California on this day in 1872, killing 30 people. California, with the large San Andreas Fault running through the entire state, is a prime area for earthquakes. At 2:30 a.m. on March 26, a large quake hit Inyo County in the Owens Valley of central California. Worst-hit was Lone Pine, where 52 of the town's 59 homes were destroyed, killing 27 people as they slept. The ground moved a full seven feet horizontally in some places near Lone Pine. Major buildings in every town in Inyo were also seriously damaged.
· 1975: The city of Hue, in northernmost South Vietnam, falls to the North Vietnamese. Hue was the most recent major city in South Vietnam to fall to the communists during their new offensive. The offensive had started in December 1974, when the North Vietnamese had launched a major attack against the lightly defended province of Phuoc Long, located north of Saigon along the Cambodian border. The communists overran the provincial capital of Phuoc Binh on January 6, 1975.
TABLE OF CONTENTS:
· Military Times: Sources: Trump plans to oust Shulkin as VA secretary
· Coin World: CCAC debates for hours before voting on American Legion coin designs
· Inside Sources: How Veterans Are Doing in the Workforce
· Military Times: Trump defends $1.3T spending plan, points to military gains
· Stripes: One stopped a church shooter, another tended to others during a mass shooting: Annual MOH tribute honors citizen heroes
· Military.com: More Veterans Seek Pardons for Combat-zone Convictions
If you wish to be removed from this email list, kindly email me at mseavey with "Remove from Daily Clips" in the subject line. If you have received this from someone who forwarded it and would like to be added, email me at mseavey and I will promptly add you to the list, that you might get the daily American Legion News.
Military Times: Sources: Trump plans to oust Shulkin as VA secretary
By: Hope Yen, The Associated Press and Ken Thomas, The Associated Press   14 hours ago
AddThis Sharing Buttons
Share to FacebookShare to TwitterShare to EmailShare to Google+Share to More631
PALM BEACH, Fla. — President Donald Trump is planning to oust embattled Veterans Affairs Secretary David Shulkin amid an extraordinary rebellion at the agency and damaging government investigations into his alleged spending abuses, three administration officials told The Associated Press on Sunday.
Two officials said an announcement on Shulkin could happen this week, subject to Trump's final decision as the White House hones in on possible replacements to head the Department of Veterans Affairs. One of the officials rated Shulkin's chances of being pushed out in the next day or two at "50-50." The three officials demanded anonymity to discuss a sensitive personnel matter.
Trump, who spent the weekend at his Mar-a-Lago estate, told associates that he would keep two other administration officials who had been under fire: White House chief of staff John F. Kelly and Housing Secretary Ben Carson.
"He did say that he's expecting to make one or two major changes," said Newsmax CEO Chris Ruddy, a Trump confidant who spoke with the president over the weekend, on ABC's "This Week."
"Now, other White House sources, not the president, tell me that Veterans Affairs Secretary David Shulkin is likely to depart the Cabinet very soon," Ruddy said.
The White House did not immediately comment. Shulkin did not respond to a request for comment Sunday.
Speculation over Shulkin's fate has ramped up in recent weeks following a blistering report by VA's internal watchdog in February that found he had improperly accepted Wimbledon tickets and his staff had doctored emails to justify his wife traveling to Europe with him at taxpayer expense. Earlier this month, two people familiar with the White House discussions told the AP that Trump increasingly viewed Shulkin as a distraction as the White House floated the names of possible candidates to replace him, including conservative "Fox & Friends" contributor Pete Hegseth.
A separate VA watchdog investigation, due out in the coming weeks, is also looking into a complaint that Shulkin asked his security detail to accompany him to a Home Depot store and cart furniture items, according to two people familiar with the allegation who requested anonymity to discuss an ongoing investigation.
One person familiar with the White House discussions told the AP on Sunday that the White House was looking closely at roughly half a dozen candidates to head the VA, the government's second-largest department with 370,000 employees.
Among the candidates being vetted include Hegseth, a former military officer and former CEO of the conservative Concerned Veterans for America; former Rep. Jeff Miller, who had been chairman of the House Veterans Affairs Committee; retired U.S. Army Lt. Gen. Keith Kellogg; Michael Kussman, a former VA undersecretary of health; Toby Cosgrove, a former president and CEO of the Cleveland Clinic; and Leo Mackay Jr., a former VA deputy secretary who is now senior vice president at Lockheed Martin Corp.
In the event of Shulkin's departure, deputy VA secretary Tom Bowman would serve as acting head of the VA until a nominee is confirmed by the Senate. Bowman has also come under criticism at the White House for being too moderate to push Trump's agenda of fixing veterans' care.
During the presidential campaign, Trump repeatedly pledged to fix the VA by expanding access to private doctors and firing bad employees, criticizing the department as "the most corrupt." Last year, Trump promised to triple the number of veterans "seeing the doctor of their choice."
But a Trump administration plan to expand the Veterans Choice program remains in limbo after lawmakers declined last week to include it in a massive spending bill.
In response to the ethics issues, Shulkin has denied wrongdoing and complained about internal drama at the agency that has made it difficult for him to push through VA improvements, citing a half dozen or so political appointees there who were rebelling against him.
But Kelly, the White House chief of staff, recently made it clear to Shulkin that he had become weary of the VA secretary's tendency to run to the media to voice complaints and claim a White House mandate that he did not fully have, according to a person familiar with the conversations who wasn't authorized to discuss them publicly and insisted on anonymity.
The department provides medical care and other benefits to 9 million military veterans in more than 1,700 health facilities around the U.S.
Coin World: CCAC debates for hours before voting on American Legion coin designs
Commemorative coin program comprises gold $5 half eagle, silver dollar, clad half dollar
By Bill McAllister , Special to Coin World
Published : 03/23/18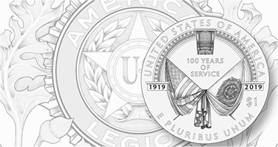 The Citizens Coin Advisory Committee considered 58 obverse and reverse designs combined March 13 for the three 2019 American Legion Centennial commemorative coins.
Images courtesy of U.S. Mint.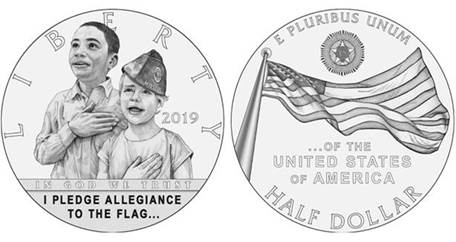 Designs above were recommended by the CCAC for the 2019 American Legion Centennial copper-nickel clad half dollar.
Images courtesy of U.S. Mint.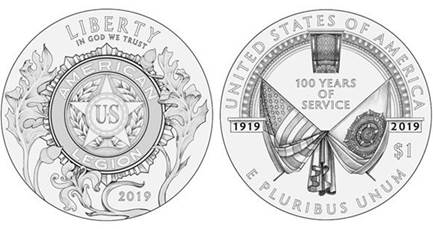 Designs above were recommended by the CCAC March 13 for the 2019 American Legion Centennial silver dollar.
Images courtesy of U.S. Mint.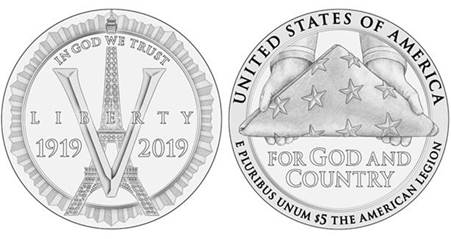 Designs above were recommended by the CCAC for the 2019 American Legion Centennial $5 gold half eagle.
Images courtesy of U.S. Mint.
The March 13 debate over three commemorative coins to mark the American Legion's centennial seemed almost doomed from the start.
Donald Scarinci, the senior member of the Citizens Coinage Advisory Committee, announced that he didn't like any of the U.S. Mint's proposed designs and wanted new ones.
April Stafford, director of design management at the Mint, urged the panel to "continue the process."
For almost three hours the CCAC did just that at its March 13 meeting in Washington.
Several members agreed with Scarinci's dour view of the designs.
"Nothing came together," said Erik Jansen, recalling his first impressions of the suggested designs for the nation's largest veterans organization.
So it was somewhat surprising, after a prolonged discussion, when Scarinci pressed the American Legion representative to come up with six designs for their 2019 coin program.
After the panel endorsed those ideas, it was Scarinci who assured the Legion that it now had coins that it could proudly sell.
The New Jersey lawyer and medals specialist told them he would be among their customers, purchasing coins he had said a few minutes earlier that "collectors are not going to buy."
Recommended designs
The set that the CCAC finally endorsed would give the Legion a number of designs but ones some of the committee members clearly did not embrace.
If the CCAC's recommendations are followed, the gold $5 coin would bear on its obverse an image of the Eiffel Tower to celebrate Paris where World War I soldiers laid plans for the American Legion. A giant "V" for victory would be on the obverse over the Paris landmark.
The gold reverse recommended would feature a design that some CCAC members liked. It showed what the Mint called "a respectful presentation of a properly folded American flag" and carry the inscription "For God and Country." Later, though, Legion officials changed their mind and selected another design (see Commission of Fine Arts article for details).
The CCAC's choice for the obverse of the silver dollar would depict the Legion's emblem surrounded by oak leaves and a lily on the obverse.
The reverse would show crossed American and America Legion flags under the words "100 Years of Service." Above the flags are simplified elements of the Arc de Triomphe. The CCAC recommended replacing "simplified elements of the Arc de Triomphe" from the design and replacing them with a fleur-de-lis, a flower that has long been a symbol of France.
The recommended obverse design for the copper-nickel clad half dollar would feature an image of a boy and a girl, the latter "proudly wearing her grandfather's old American Legion hat," giving the Pledge of Allegiance. Under the children, the obverse would include the wording "I pledge allegiance to the flag…"
The reverse of the half dollar would continue the theme, showing a fluttering American flag "from the children's point of view." An inscription on the reverse would continue the wording from the obverse, appearing as ". . . of the United States of America."
Connect with Coin World:
All six of the CCAC's recommendations drew at least 20 points under a voting plan that allows each member to cast up to three points for any favored design.
With nine members of the panel present and voting that meant the maximum vote any design could receive was 27 points.
The silver dollar obverse design drew 26 points, the highest of any in the balloting.
The designs were reviewed by the Commission of Fine Arts two days after the CCAC.
Treasury Secretary Steven Mnuchin will have the final say on which designs go on the coins.
Initial unhappiness
Much of the CCAC's consideration of the coins' designs was filled with the panel's unhappiness with the design.
Verna Jones, executive director of the American Legion, conceded that some of the Legion officials were not overwhelmed by the proposed designs.
"We were not jumping up and down," she said when they first saw the proposals.
One design, showing a veteran who had lost his legs in combat, "looks sad to me," she said.
Other designs were not representative of the Legion's current diversified membership, Jones said.
"Someone will look at this coin and say we feel left out," she said.
Scarinci is often the most outspoken member of the CCAC and has led previous moves to reject proposed designs.
Of late, however, he has been supportive of Mint proposals and has praised the quality of Mint designs.
At the March 13 meeting, he was upset.
"This is really artistically the worst designs I have seen here in five years," he said, asking, "How did we go so fast?" and adding,"Something went wrong."
He suggested at one point that the committee should just give the Legion "the designs it wants and wash our hands."
Native American dollars
After the review of the American Legion coin designs, the Mint revealed the themes it plans for the Native American dollar reverses from 2021 to 2024.
The 2021 reverse is to feature the contributions of Native Americans to the military and the 2022 coin will honor Ely Samuel Parker, a Seneca lawyer who served as an aide to Ulysses S. Grant in the Civil War.
The 2023 coin will honor Charles Alexander Eastman, a Santee Dakota physician and celebrated writer, and the 2024 coin will commemorate the Indian Citizenship Act of 1924, which gave U.S. citizenship to thousands of Native Americans.
The obverse of the coins will continue to feature Sacagawea, the Shoshone Indian guide who help the Lewis and Clark expedition explore the lands of the Louisiana Purchase.
CCAC chair Mary Lannin expressed concern that the coin for Indian military service might overlap with recently issued medals for Native American code talkers.
Other committee members said they didn't share that concern and suggested the code talker medals had given the Mint's artists a good foundation for the coin designs.
Historian Herman Viola, a CCAC member who has been working on a Washington memorial to honor the contributions of Indians to the U.S. military, said Native Americans are "so excited about these coins."
Inside Sources: How Veterans Are Doing in the Workforce
Posted to Politics March 25, 2018 by Connor D. Wolf
The U.S. economy has improved significantly over the past several years, and veterans now find themselves in a much better place than the years immediately following the recession.
Americans do a lot to celebrate veterans for their service fighting for the country. But transitioning veterans to good careers after their service has been a problem. Federal and private organizations, working in tandem with the improving economy, have done a lot to help veterans in the workforce.
The Bureau of Labor Statistics (BLS) released an annual report Thursday which found the unemployment rate for all veterans hit its lowest point in almost two decades by declining to 3.7 percent in 2017. The overall unemployment rate is 4.1 percent. But there is still a large percentage of veterans not participating in the workforce.
"My thoughts are this is a pretty good report in general," Jeffrey Wenger, senior researcher at the policy analysis nonprofit RAND Corporation, told InsideSources. "The labor market seems to be improving for everyone and improving in general for veterans."
The Great Recession and the sluggish recovery that followed proved to be a major setback for veterans. It was sparked by the subprime mortgage crisis and the financial crisis of 2007. The unemployment rate for veterans reached its peak of 8.7 percent by 2010 – compared with 9.4 percent for nonveterans.
"Now you see from the BLS it runs significantly under what you see from the population at large," Charles Sevola, vice president for veteran initiatives at the insurance company Prudential, told InsideSources. "Obviously, great progress has been made."
Former President Barack Obama started to see steady improvements across the economy in his final few years in office. The economy is still improving but now there are substantially more job opportunities for veterans and civilians alike. President Donald Trump entered office last year with a focus on workers and the economy.
"When the economy was really bad, veterans suffered just like everyone else," Wenger said. "Generally they are younger and we were really concerned with the ones transitioning out of active duty and into the civilian workforce. So as the economy has improved, that has improved for both veteran and non-veteran populations."
Sevola notes that since the recession there has been more of a focus on veteran issues – terming it a call to arms. He adds that government agencies and private initiatives began ramping up their efforts to help veterans starting around 2010. He believes the bad economy and service members coming home from war both likely played a role.
The Department of Labor (DOL) and other government agencies have been at the forefront of assisting veterans in the workforce. They have implemented services and workshops to help veterans find jobs and gain skills that help them more easily transition to the workforce.
The federal government isn't alone when it comes to groups working to help veterans. The U.S. Chamber of Commerce, other business associations, and corporations have started their own programs aimed at assisting veterans. The American Legion and other veterans associations have also launched employment initiatives.
"I contribute a lot of this stuff to the work the Department of Labor has been doing along with other agencies," Ariel De Jesus, assistant director for veteran employment and education at The American Legion, told InsideSources. "It's gotten a lot better. Not to mention, obviously, the improving economy. That means there are more jobs available out there. It definitely gives our veterans and service members more opportunities."
Prudential President John Strangfeld is one such corporate leader that decided to make veterans a priority not long after the recession. The company soon after released a report detailing issues veterans face when transitioning into the workforce. It has also launched an initiative focused on helping veterans find good jobs.
"We have a number of programs on education and employment, leadership, corporate philanthropy, and employee engagement all geared towards addressing these issues that veterans have," Sevola, who leads the veterans initiative program, said. "I use Prudential as an example, but there are many examples like it where corporate America has put their shoulder into this problem to make a difference."
The labor force participation rate for veterans is still a lot lower than the general population despite having a better unemployment rate. It stands at around 49 percent compared to 63 percent for the general population. Wenger states the lower participation rate isn't a problem when considering how many older veterans there are.
"I think it's an artifact of the demographics," Wenger said. "If you count all veterans as the denominator, then you get almost a third of all veterans having aged out of the labor force by and large."
The unemployment rate doesn't count people who are no longer considered part of the labor market due to long-term joblessness. The labor force participation rate, in contrast, tracks the number of employed and those actively seeking work as a percentage of the total population. But that means many might be retired or student adults.
"The issue isn't getting people jobs, it's getting them good jobs that match their skills," Wenger said. "Those are the kinds of complaints we are hearing now. Jobs are there, the unemployment rate is low, but job match and job quality is still a concern."
Wenger adds that veteran advocates have started to turn their attention away from employment and more towards turnover and job matching. He states that veterans want to use the skills they developed in the military. The economy generally could also benefit when those skills are effectively utilized.
"Sometimes it has to do with how the job they had in the military translates to the civilian space," American Legion spokesman Joe Plenzler told InsideSources. "A truck driver in the military, or photographer, those things tend to translate a little bit more easily."
Wenger also argues that more can be done to help change how veterans are viewed in society. He notes that they know how to follow orders, have developed strong soft skills, have leadership qualities, and are physically fit. Sevola adds that many in society have a negative perception of the talents and skills veterans bring to the workforce despite that.
"We have absolutely made progress but that is in no means an excuse to declare victory because there is much more to do," Sevola said. "We have a lot to do to change those perceptions and narrative out there. There is a portion of the population that believes it."
Wenger adds that many people don't understand how hard it is to get into the military. Those who do manage to get in almost always have to be good test takers and physically fit. Wenger notes that he isn't surprised things are improving for veterans in the workforce given that selection process.
Military Times: Trump defends $1.3T spending plan, points to military gains
By: Ken Thomas, The Associated Press   21 hours ago
AddThis Sharing Buttons
Share to FacebookShare to TwitterShare to EmailShare to Google+Share to More867
PALM BEACH, Fla. — President Donald Trump on Sunday defended his decision to sign a $1.3 trillion federal spending bill despite his misgivings, pointing to billions in new funding for the military and national security.
Trump said on Twitter from his Mar-a-Lago estate in Florida that because of the military funding, "many jobs are created and our Military is again rich." He said building his signature border wall "is all about National Defense."
Since grudgingly signing the bill on Friday after threatening a veto, Trump has faced fierce criticism from conservatives who have accused him of caving to congressional Democrats. The president said Friday at the White House he was "very disappointed" in the package, in part because it didn't fully pay for his border wall. But Trump said he had "no choice" because the nation needed to fund the military.
Trump sought $25 billion for his border wall, but the plan included much less — $1.6 billion for building new sections of wall and replacing older sections. Trump tweeted Sunday that much can be done with the money and it's "just a down payment."
He said the "rest of the money will come" and again reiterated that Democrats "abandoned" young immigrants seeking protections. Trump on Friday noted that the bill failed to extend protection from deportation to some 700,000 "Dreamer" immigrants due to lose coverage under a program the president himself has tried to eliminate.
Trump's veto threat had put him at odds with top members of his administration and Republican House Speaker Paul Ryan, who urged him to sign the bill. But prominent conservatives have criticized the massive spending plan, warning that it could add to the nation's debt.
The president on Friday warned Congress that he would "never sign another bill like this again." He called for the Senate to overhaul its rules to allow for simple-majority votes on all bills and urged Congress to provide him with a line-item veto power to kill specific spending items he disagrees with. The Supreme Court ruled in 1998 that a congressionally passed line-item veto was unconstitutional.
Stripes: One stopped a church shooter, another tended to others during a mass shooting: Annual MOH tribute honors citizen heroes
By CARLOS BONGIOANNI | STARS AND STRIPESPublished: March 24, 2018
ARLINGTON, VA. — Pop, pop, pop… the sound of gunfire rang out at the close of the Sunday church service. One person lay dead outside. Six others were wounded. As people around him ducked for cover, Robert Engle ran toward the masked gunman.
Members of the Burnette Chapel Church of Christ in Antioch, Tenn., where Engle was serving as an usher that morning, say he saved lives.
For his courageous actions on Sept. 24, 2017, Engle received a Citizen Honors award Friday at Joint Base Meyer-Henderson in Virginia, where more than two dozen Medal of Honor recipients gathered to present five awards. It was part of an annual ceremony in which the Congressional Medal of Honor Society recognizes civilians for acts of courage and selfless service.
Engle said he does not feel like a hero.
"I just reacted," he said.
Engle said it was as if an invisible hand was pushing him forward. When he grabbed the attacker from behind, the gunman turned around and hit Engle in the head several times with a pistol. A life-and-death tussle ensued, in which Engle said the movements, in an inexplicable fashion, seemed to unfold "in slow motion but at a fast pace." But more profound than that, he said, was the peace and calm he felt through the whole ordeal.
Engle said he remembers the gunman turning a weapon towards him. And just in the nick of time, he deflected the gun, turning it back upon the gunman as the weapon fired.
After a video presentation retelling the episode, the audience exploded in applause for Engle.
"It just feels like a dream," Engle said of the recognition he received Friday. "Who knew that a small-town Tennessee boy would be up in Washington with all these Medal of Honor holders? Who would have thought?"
Three other individuals and one group were also honored Friday, following an annual National Medal of Honor Day wreath-laying ceremony involving the MOH recipients at adjacent Arlington National Cemetery.
Matthew Cobos
Army veteran Matthew Cobos was honored for courageous acts he exhibited during a music festival in Las Vegas on Oct. 1, 2017, when a gunman opened fire, killing 58 and injuring at least 871 people.
Cobos, who left the military several months before the shooting, said he served nearly four years as a cavalry scout and "had never been so happy that I joined the Army… When the chaos happened in Vegas… definitely some training, some of the muscle memory from whatnot kicked in."
When the first rounds of gunfire erupted, Cobos said, he ducked to the ground, pulling down a friend and others around him. A photographer nearby snapped a shot of Cobos shielding his friend with his body.
Cobos tried calling 911 to get medical personnel on the scene, but he said a couple of off-duty emergency medical technicians who were there told him "they're not coming." Meanwhile, he tended to people around him who had been shot.
After the episode, Cobos decided he wanted to become an EMT instead of pursuing a business degree in college. He said he's "super excited" about becoming a first responder. "Usually when somebody calls 911 or anything like that, they're having the worst days of their lives. And you're the one that's got to make it better and help them out."
Kimberly Scofi
The appreciation she feels for military members who sacrifice so much to serve their country has led Kimberly Scofi to devote much of her time and energy to assist veterans and their families. Scofi, in turn, was presented a Citizens Award for the selfless service she offers.
As the director of the nonprofit organization United Military Care, Scofi works to strengthen military families and communities with emergency aid, education and empowerment through her organization.
For Scofi, "there is no greater sacrifice" than what military members make when they choose to be willing to die to protect the liberties American citizens enjoy. "We knew we wanted to build an organization that was responsive in a compassionate way to our veterans and their families who are often overlooked and set them on a course for success, not just hand out a bag of groceries. We really want to be there to help solve the problem."
Virgil Smith
For its Young Hero Award, the MOH Society selected 13-year-old Virgil Smith for the heroism he exhibited when floodwaters from Hurricane Harvey swamped his neighborhood in Hitchcock, Texas.
It was pitch black outside when Virgil got a call from friends who were trapped by high water and couldn't swim. Virgil decided to use an air mattress from his apartment to rescue his friends.
Virgil's uncle, an Operation Desert Storm veteran, noted how much courage it took for a boy to repeatedly go out in flood waters with no lights at 2 a.m. Eventually, Virgil helped evacuate 17 people.
Veterans Heritage Project of Phoenix
For its Community Service Hero Award, the MOH Society selected the Veterans Heritage Project of Phoenix, which tasked middle- and high-school students to interview veterans and collect their war stories. As a result, thousands of veterans' oral histories have been donated to the Library of Congress.
Military.com: More Veterans Seek Pardons for Combat-zone Convictions
Fox News 25 Mar 2018
When Michael Behenna told his parents he wanted to enlist in the Army after the Sept. 11 terrorist attacks, they were proud.
Worried, too.
The Behennas themselves were devoted to careers in public service. Scott Behenna was an FBI intelligence analyst and retired Oklahoma State Bureau of Investigation special agent. Vicki Behenna prosecuted Timothy McVeigh for the lethal Oklahoma City bombing.
But as parents they were fearful that if he were deployed to a battlefield, Michael, the eldest of their three sons, could be maimed or killed.
Instead, First Lt. Michael Behenna returned from Iraq in 2008 with a murder charge. He was found guilty of unpremeditated murder in a combat zone and locked up at the federal penitentiary at Fort Leavenworth, Kan.
Behenna admitted during his trial that instead of taking an Iraqi prisoner, Ali Mansur, home after a 2008 interrogation in Iraq — as he was ordered to do — he took him to a railroad culvert. There he stripped Mansur and questioned him at gunpoint about a roadside bombing that had killed two members of Behenna's platoon, which Behenna had witnessed.
"When you send a child over to fight in a war, the last thing you think you'll ever have to deal with is seeing him be charged with killing an Al-Qaida" terrorist, Scott Behenna said to Fox News.
Behenna, who was 24 at the time, said he acted in self-defense when Mansur threw a chunk of concrete at him, and reached for the lieutenant's handgun. The Army said the argument didn't stand up, because Behenna was already pointing his weapon at the prisoner.
Behenna was sentenced to 25 years in prison, which was reduced to 15. In 2014, when he had served five years, he was granted parole.
Behenna, now 34, is one of about a dozen veterans who were paroled or continue to be held in Leavenworth because of combat-zone crime convictions that many military experts and political leaders say never should have happened. They are seeking a pardon from President Donald Trump, who has so far granted just two — one to former Sheriff Joe Arpaio of Arizona, and the other to a former Navy sailor, Kritian Saucier, who took photos of classified areas in a submarine and served a year in federal prison.
"If these guys messed up, there are administrative ways to handle it. But we charge them with murder," Scott Behenna told Fox News. "These guys are put on multiple tours, and they're stressed out. We're fighting an enemy that has no uniform. These guys had no criminal record, I'd have any of them as my neighbor, even living in my home. They're phenomenal people. We second-guessed them and put them in prison."
Scott and Vicki Behenna said the military justice system bewildered and frustrated them. They also said the handling of their son's case sometimes seemed to run counter — in ways that shaped key outcomes — to what would have been done in the civilian world.
"I understand criminal law, but I was not familiar at all with the UCMJ," said Vicki Behenna, referring to the Uniform Code of Military Justice.
They say one misstep they believe denied their son a fair trial was the failure of the prosecution to disclose that their own expert's analysis supported Lieutenant Behenna's version of events. The expert felt so strongly that he reached out to the Behennas about his suppressed findings.
Vicki Behenna said, "As a nation, we should be sympathetic and understanding of the stress and fear" that those in combat operate under when making split-second decisions.
Scott Behenna said the military failed to thoroughly investigate the scene of the shooting in a timely manner.
"In the civilian world, we take whatever time is necessary to do a good crime scene investigation if it could exonerate someone," he said. "But the military won't do it."
Scott Behenna concedes his son erred when he deviated from orders to take Mansur home, taking him elsewhere for an unauthorized interrogation. But he cannot fathom how Behenna and some 11 others who are detained or on parole from Leavenworth based on combat-zone crimes have been treated more harshly than others whose jobs involve split-second, life-and-death decisions.
"Americans released Al-Qaida terrorists and other people" from the military's Guantanamo Bay detention facility, he said. "We released them, not on parole, we let them go free even though we know a third of them go back [to terrorist activities]. But we don't give that to our guys."
Behenna said it makes little sense that there's discretion granted in cases where the military drops bombs on suspected enemies, and kills innocent civilians in the process.
"We can bomb and kill people, even in their sleep," he added, "we don't convict pilots who drop a bomb on the wrong house, and we shouldn't. Yet if you come face-to-face with an insurgent, with one individual, and you're making a split-second decision, you can be prosecuted for murder."
Last year, Rep. Brian Babin, R-Texas, asked Trump in a letter to review the cases of veterans who fought in Iraq and Afghanistan and are in jail for battlefield crimes. He has not received an official response yet from the White House, he said.
"I've had several discussions with senior Trump Administration officials since I sent the letter last year," Babin said to Fox News on Thursday. "It is my sincere belief that these American servicemembers' cases should be reviewed to ensure that their trials, convictions and sentences were not influenced by political pressures."
The Behennas say their son has rebuilt his life, and enjoys running his own cattle ranch. He is required to check in with his parole officer, and be listed in the public domain as a felon.
"I understand, legally, what it takes to get a pardon, and how difficult they are to get," Vicki Behenna said. "As a mother, I want that for Michael. I want him to be forgiven, be able to, if and when he has kids, and wants to coach Little League, that he'll be able to do it, and not be prevented because of a criminal conviction."
Many of the other Leavenworth veterans have it worse. Some are from poor families, who lack the means to keep their vet's case in the public eye, or to visit Washington to meet with lawmakers to build support for clemency, a pardon, or a change in the way the military punishes combat zone crimes.
Three of the men remain in jail: Army First Lt. Clint Lorance, Sgt. Derrick Miller, and Master Sgt. John Hatley. The other Leavenworth vets got paroled; one got his conviction overturned. These are the only ones in the group who are still behind bars.
Sgt. Derrick Miller of Maryland was on a combat mission in a Taliban-held area of Afghanistan in September 2010 when he was warned the unit's base had been penetrated. An Afghani suspected of being an enemy combatant was brought to Miller for interrogation — and ended up dead. Miller claimed the suspect tried to grab his gun, and that he shot him in self-defense. But he was convicted of premeditated murder and sentenced to life in prison.
Army First Lt. Clint Lorance is serving a 20-year sentence for ordering his men to shoot two suspected Taliban scouts in July 2012, in the Kandahar Province of Afghanistan. Lorance had just taken command of the platoon after the prior leader and several others were killed, days before. The Taliban suspects were on motorcycles and matched descriptions given by a pilot who flew over the area earlier and spotted them as scouts.
U.S. Army Master Sgt. John Hatley, a highly decorated 20-year vet who served in Operation Desert Storm and did another three tours during the Iraq War, is serving a life sentence at Leavenworth. His conviction stems from an April, 2007 encounter in Iraq in which he and his unit captured enemies following a firefight.
He radioed a U.S. detention facility to notify officials he was bringing in four prisoners, but was ordered to let them go, according to his legal team.
Two years later, a sergeant who had served with Hatley, Jesse Cunningham, was facing charges for assaulting another officer and falling asleep at his post. As leverage for a plea deal, he told investigators Hatley and two other officers had taken the insurgents to a remote location, blindfolded them and shot each in the back of the head. He claimed their bodies were dumped in a canal — though none were ever found.
Hatley insists he and his men let the insurgents go, but believes he was punished in the interest of the government's relations with Baghdad.
About Post Author