Good morning Legionnaires and veterans advocates, today is Thursday, June 13, 2019 which is National Kitchen Klutzes of America Day, National Career Nursing Assistants Day, Sewing Machine Day and Weed Your Garden Day.
This Day in History:
· 1777 – American Revolutionary War: Gilbert du Motier, Marquis de Lafayette lands near Charleston, South Carolina, in order to help the Continental Congress to train its army.
· 1805 – Lewis and Clark Expedition: scouting ahead of the expedition, Meriwether Lewis and four companions sight the Great Falls of the Missouri River.
· 1917 – World War I: The deadliest German air raid on London of the war is carried out by Gotha G.IV bombers and results in 162 deaths, including 46 children, and 432 injuries.
· 1927 – Aviator Charles Lindbergh receives a ticker tape parade down 5th Avenue in New York City.
· 1966 – The United States Supreme Court rules in Miranda v. Arizona that the police must inform suspects of their rights before questioning them.
· 1967 – U.S. President Lyndon B. Johnson nominates Solicitor-General Thurgood Marshall to become the first black justice on the U.S. Supreme Court.
TABLE OF CONTENTS:
· Buffalo News: Editorial: Fortitude under fire
· Military Times: GI Bill transfer ban for older troops could be thrown out
· Military.com: Coast Guard Strips Gender-Specific Pronouns from Evals, Promotion Board Packages
· Military Times: Will Congress force gender integration at Marine Corps boot camp?
· Military Times: 'Blue water' veterans bill clears Senate, heads to White House for final signature
If you wish to be removed from this email list, kindly email mseavey with "Remove from Daily Clips" in the subject line. If you have received this from someone who forwarded it and would like to be added, email me at mseavey and Mark Seavey will promptly add you to the list, that you might get the daily American Legion News.
Buffalo News:Editorial: Fortitude under fire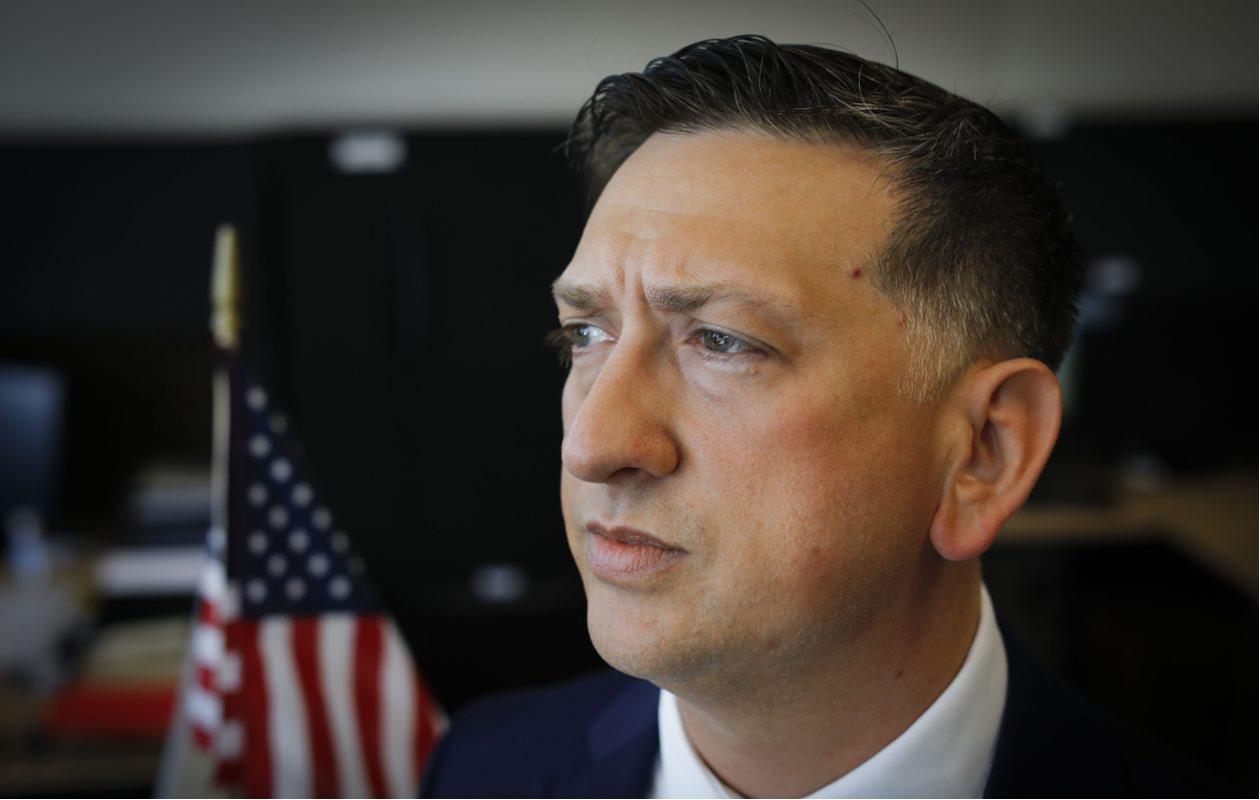 David Bellavia will be awarded the Medal of Honor for his courageous service in Iraq. (Derek Gee/Buffalo News)
By News Editorial Board|Published June 12, 2019
President Trump's awarding of the Medal of Honor to David Bellavia affirms we have a living war hero in our midst in Western New York.
Bellavia, a WBEN Radio talk show host and sometimes political candidate who lives in Albion, will receive the nation's highest military honor on June 25. Bellavia, 43, will become the first living Medal of Honor recipient from the Iraq War. He'll become the 3,469th American designated for the honor and part of an exclusive club of Western New York recipients that includes William "Wild Bill" Donovan and Matt Urban, among others.
Staff Sgt. Bellavia's heroic acts in Fallujah, Iraq, took place on Nov. 10, 2004, and sound like the stuff of action movies. Bellavia was a squad leader in Operation Phantom Fury. On his 29th birthday, Bellavia and his squad were pinned down by enemy fire.
"He quickly exchanged an M16 rifle for an M249 Squad Automatic Weapon, entered the house where his squad was trapped, and engaged insurgents, providing cover fire so that he and his fellow soldiers could exit safely," the White House news release says.
Bellavia killed four insurgents with his rifle and grenades, and took out another man after engaging him in a knife fight. The Army previously recognized him with the Silver Star award, the nation's second-highest award for valor.
Bellavia recounted the battle in a 2007 book, "House to House – an Epic Memoir of War," written with John R. Bruning. Universal Pictures and Imagine Entertainment in 2015 acquired the movie rights to the story.
The list of Medal of Honor winners from our region starts with Donovan, a native of Buffalo's Old First Ward who became a World War I hero and founded the Office of Strategic Services, the predecessor to the Central Intelligence Agency. Donovan, along with Theodore Roosevelt Jr., was also a co-founder of the American Legion.
Urban, an Army lieutenant colonel, was nicknamed "The Ghost" by German soldiers during World War II because of his ability to return to battle after being wounded seven times, in Tunisia, Sicily, France and Belgium. President Jimmy Carter presented Urban with the Medal of Honor in 1980, proclaiming him America's greatest war hero. Counting that award, Urban earned a record 29 combat decorations.
Some other Western New Yorkers who won the nation's top military decoration:
• William Grabiarz: The Pfc. William J. Grabiarz School of Excellence, on Lawn Avenue in Buffalo, honors the 19-year-old Buffalo soldier who gave his life for his wounded commander during the Battle of Manila, in the Philippines, on Feb. 23, 1945.
• Charles DeGlopper: A statue on Grand Island commemorates the GI native who was a private first class during World War II. Fighting in La Fière, France, DeGlopper's bravery in firing upon the enemy while under siege got him killed, which led to his being awarded the medal posthumously.
• Frank Gaffney, an Army private first class from Niagara Falls who died in World War I.
• John Paul Bobo, a Marine lieutenant from Niagara Falls who was killed in Vietnam.
Bellavia, 43, still has many years to enjoy the accolades and adulation that come with such a high honor. All of America now joins Western New York in thanking him for his selfless service.
Military Times: GI Bill transfer ban for older troops could be thrown out
By: Leo Shane III   13 hours ago
725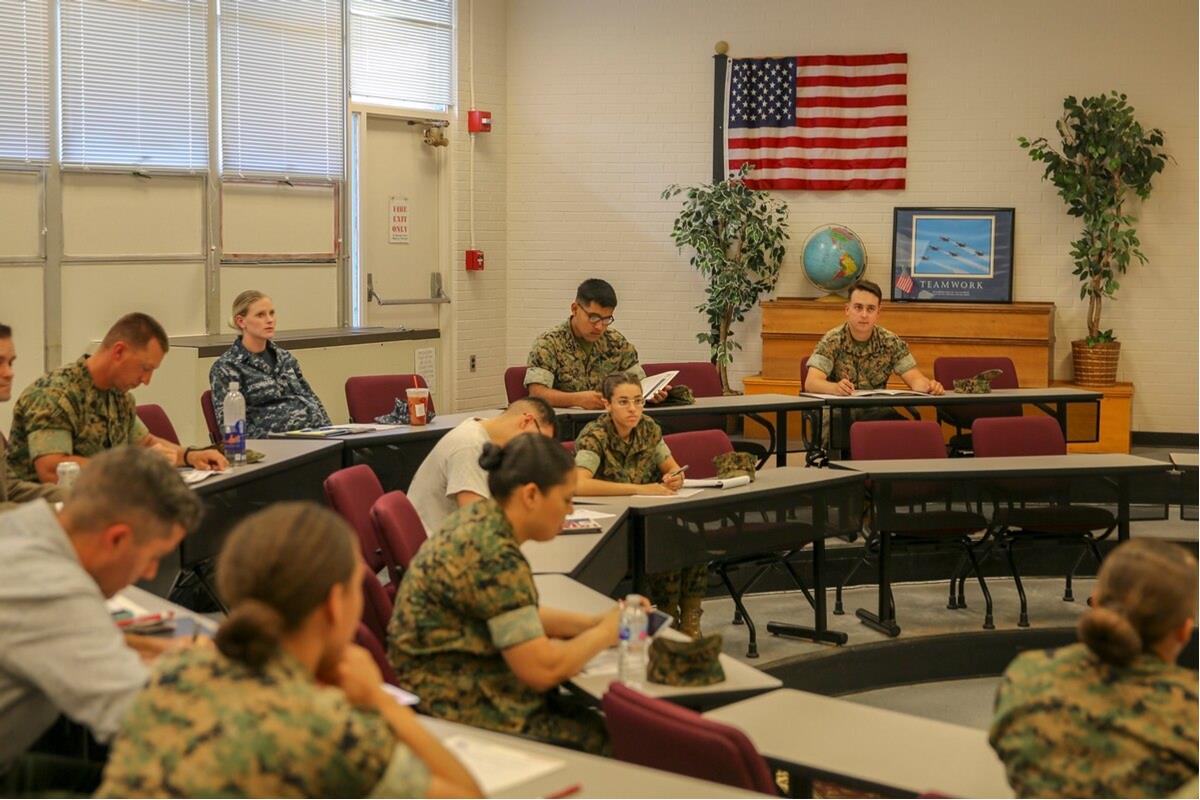 Troops on Marine Corps Base Camp Lejeune participate in an education seminar on May 16, 2019. (Lance Cpl. Miranda C. DeKorte/Marine Corps)
New GI Bill transfer rule will impact older service members
By: Joshua Axelrod
Senior service members would once again be able to share their GI Bill benefits with spouses and children under a provision included in a House panel's budget bill draft.
The measure was unanimously approved by the House Armed Services Committee during their debate of the annual defense authorization bill on Wednesday. Sponsor Rep. Joe Courtney, D-Conn., said the idea is to reverse "a truly lousy decision by the Department of Defense last year."
The measure still must survive negotiations with the Senate before it becomes law, but supporters said they hope it sends a clear message to Defense Department leaders about their disapproval of the rule change, which blocks troops with more than 16 years of service from transferring their education benefits to a spouse or children.
That move goes into effect on July 12. Military officials in recent weeks have warned affected service members to finish their transfer paperwork before that deadline or lose out on sharing tens of thousands in education benefits with their family.
"This decision … punishes those who have served over a long period of time, maybe got married late or started a family later," Courtney said. "It cuts them off from being able to get the GI Bill's really special component of transferability.
"If you talk to service members, it is one of the most popular aspects of the benefit — to have that for their family."
Service members wounded in combat are exempted from the rule change.
Courtney said reserving the decision would not have a significant financial impact on the federal government but could help with retention and morale.
For certain vets, it may provide the veteran, spouse and children each with their own set of 128 hours of GI Bill benefits, which they can use at the same time as the veteran and each other. And one person in the family using their benefits doesn't reduce anyone else's GI Bill.
By: Joshua Axelrod
The post-9/11 GI Bill benefits cover the full cost of in-state tuition plus a monthly living stipend for eligible troops, veterans and family members. Troops must serve six years before they can transfer benefits to a family member.
Officials from Iraq and Afghanistan Veterans of America have lobbied for the change in recent months, arguing it unfairly limits benefits promised to service members.
Senate officials have not yet weighed in on the idea.
Military.com
Coast Guard Strips Gender-Specific Pronouns from Evals, Promotion Board Packages
Military.com | By Patricia Kime
As part of an ongoing effort to attract and retain women in the Coast Guard, the service has eliminated gender-specific pronouns from members' promotion packages and professional evaluations.
Under the new guidelines, "reported-on officer" has replaced "he" or "she," and no reviewing officer can use terms like "his" or "her." First names are not given, and the use of "flowery, fluffy language that might 'read differently' for women than men" is strongly discouraged, according to Lt. Cmdr. Kristin Jaekel, assistant gender policy adviser with the Coast Guard's Office of Diversity and Inclusion.
The new guidance is designed to mitigate bias in the evaluation system that could influence promotions or job placement, explained Cmdr. Andrea Smith, deputy of the service's Personnel Readiness Task Force, addressing members of the Defense Advisory Committee on Women in the Service, or DACOWITS, during a meeting Tuesday in Alexandria, Virginia.
The Coast Guard in March released results of a commissioned study on women in the service that found they stayed in the service at significantly lower rates than their male counterparts.
Related: Coast Guard Eyes Changes to Physical Standards, Tattoo Policy to Retain Troops
Reasons cited for leaving ranged from assignments to collateral duties considered stereotypical female activities, such as morale and administrative tasks, that don't enhance career development, and a belief that men and women are treated differently in the service.
For example, the study noted, women are often excluded from group activities and see limited opportunities for advancement.
The results of the study, conducted by Rand Corp., were gleaned from input from 1,010 women and 127 men in more than 160 focus groups.
Women comprise roughly 15% of the Coast Guard. To encourage women and men to join the service and make it "the employer of choice" for all, Coast Guard Commandant Adm. Karl Schultz earlier this year announced a number of personnel policy changes and planned initiatives designed to retain members.
The pronoun change is one of the "early action items" immediately implemented, Smith said.
The Coast Guard can make the professional review process gender-neutral because, unlike some other services, it does not use photographs in promotion board packages or evaluations, Jaeker explained.
Without a photo and without a first name, "you don't know," she said.
Language choice is also important, she added. "[A woman's eval] may say 'pleasant personality, cheery, bright, happy every day,' whereas the male eval might say 'led, spearheaded, action-oriented,' very masculine terms. There's that bias, even though they may both be scheduling officers, managing the activities for eight aircraft a week."
Other policies under scrutiny as a result of the retention study are the Coast Guard's physical standards, which are based on body mass and require a tape measurement of all personnel twice a year. Tattoo regulations will also get a review.
Immediately after Schultz received Rand's preliminary findings, he announced a program that would allow reserve members to step into active-duty jobs when a service member takes maternity, convalescent or caregiver leave.
Coast Guard officials said Tuesday that since the new "surge" program's introduction two months ago, 30 Coast Guard men and women have used it.
Other "early action items" include extending the amount of leave new parents can take, the opportunity for new moms to decline temporary assigned duty that requires deployment for up to a year after childbirth, and making co-location easier for service members married to other Coast Guard men and women.
"We are looking across the service to identify other areas of personnel readiness. We recognize that anything positive we are doing for women, we are doing for all our members," Smith told DACOWITS.