Good morning Legionnaires and veterans advocates, today is Friday, September 6, 2019 which is Stillbirth Remembrance Day, Bring Your Manners to Work Day, National 401K Day, National Foodbank Day and National Read a Book Day.
This Day in History:
TABLE OF CONTENTS:
If you wish to be removed from this email list, kindly email mseavey with "Remove from Daily Clips" in the subject line. If you have received this from someone who forwarded it and would like to be added, email mseavey and he will promptly add you to the list, that you might get the daily American Legion News.
WDBJ-TV (Va.)
D-Day Memorial hosts National Commander of the American Legion
BySiobhan McGirl |
Posted: Thu 2:22 PM, Sep 05, 2019


BEDFORD COUNTY, Va. (WDBJ) —A police-escorted line of cars drove up the hill to the National D-Day Memorial Wednesday, leading American Legion National Commander James "Bill" Oxford to a private tour of the site.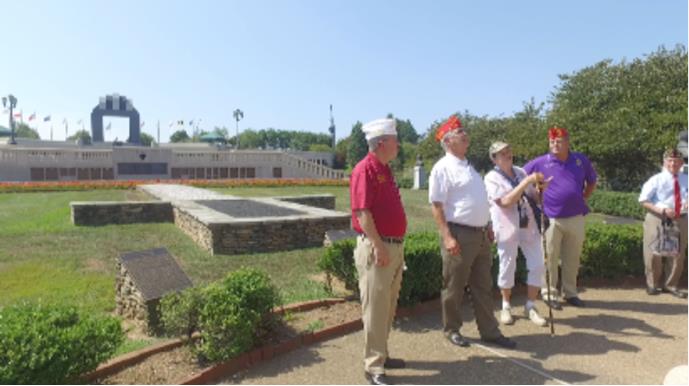 American Legion's post in Bedford brought the newly elected National Commander, Bill Oxford, to the National D-Day Memorial Wednesday. WDBJ7 photo.
"That was a little beyond what I expected," said Oxford.
The entourage leading the commander would not be his last surprise. As soon as he stepped foot on the site of the memorial, he said he could not describe how he felt.
"There is a sacredness at this monument," said Oxford. "It is just protecting American values and remembering the Bedford Boys."
Oxford, a Vietnam veteran, has been a member of the American Legion since 1986. Last week, he was elected national commander during the organization's 101st national convention.
Bedford just so happened to be the first place he was scheduled to visit. The National D-Day Memorial was his first stop.
"There was divine intervention here and I am serious," said Oxford. "Our job is supporting America, looking after veterans, supporting a strong national defense and supporting children and youth."
Oxford said the American Legion's mission is similar to that of the National D-Day Memorial, making it a very fitting first stop.
"Our missions mirror each other in the work we do for veterans, recognizing veterans and particularly in teaching the next generation about service," said April Cheek-Messier, President of the National D-Day Memorial Foundation.
Oxford became emotional during his tour of the site, specifically when he learned about the small town of Bedford's immeasurable loss.
"The sacrifice that these families made. I mean, brothers coming back and one not," Oxford said.
"It is always gratifying to see people's reactions to the memorial," said Cheek-Messier. "I am just delighted that he was able to witness it himself."
Oxford will continue his time in Virginia with stops in Lynchburg, Richmond and Norfolk.
Copyright 2019 WDBJ. All rights reserved.
Simplemost.com
This Judge Set Some Unique Parole Conditions For 2 Men Who Lied About Military Service
When delivering the sentence, the judge said, "You've been nothing but disrespectful in your conduct." Do you agree with the judge's decision and the actions they need to take?

KATE STREIT ·19 HOURS AGO
It's been said that a punishment should fit the crime. And in one recent case, the parole conditions one judge set for two defendants seems quite fitting indeed.
Two men recently appeared before a judge in a Montana courtroom for violating the terms of their deferred or suspended sentences in two separate, unrelated cases. This is troubling on its own, but then these men both falsely claimed military service in an attempt to be tried in Veterans Treatment Court.
Veterans Treatment Court is a specialized court for U.S. military veterans who are struggling with addiction or health problems. The defendants — Ryan Patrick Morris and Troy Allan Nelson — lied about their military background because they believed it would lead to greater leniency in their case.
When their lies were revealed, Cascade County District Judge Greg Pinski ordered the criminals to personally hand-write letters of apology to a number of veteran organizations — including the American Legion, AMVETS, the Disabled American Veterans, the Iraq and Afghanistan Veterans of America, the Veterans of Foreign Wars and the Vietnam Veterans of America — as part of the terms of their eligibility for parole. In their apology letters, they must identify themselves as having lied about military service.
Additionally, the two must personally hand-write the names of all 6,756 Americans killed in Iraq and Afghanistan as well as the obituaries of the 40 Montanans killed in those countries.
They must also complete 441 hours of community service each, which is one hour for each of the Montana residents killed in combat since the Korean War.
And finally, every year during the suspended portions of their sentences, they must stand at the Montana Veterans Memorial (pictured below during Memorial Day observation) for eight hours on both Memorial Day and Veterans Day while wearing a placard that reads, "I am a liar. I am not a veteran. I stole valor. I have dishonored all veterans."
"I want to make sure that my message is received loud and clear by these two defendants," Judge Pinski said during the hearing. "You've been nothing but disrespectful in your conduct. You certainly have not respected the Army. You've not respected the veterans. You've not respected the court. And you haven't respected yourselves."
What do you think of this unusual sentence?
Want more true crime?Court TV is back in sess
Military.com
VA Wrongly Denied Some Veterans' GI Bill Benefits, Judges Rule


5 Sep 2019
Military.com | By Patricia Kime
A panel of Department of Veterans Affairs judges has ruled in favor of a veteran who petitioned to receive full education benefits under both the Montgomery and Post-9/11 GI Bills, a decision that, if allowed to stand, could expand the payout for thousands of eligible veterans.
In a decision published last month, two of three judges with the U.S. Court of Appeals for Veterans Claims ruled the department erred in denying a benefits claim filed by a former soldier with "split time," having served as an enlisted soldier and later returning to the service as an officer.
The veteran, identified as "BO" in the suit, served in the military during several distinct periods, from 2000 to 2002 as an enlisted soldier; from 2004 to 2005 as a member of the Army National Guard; and from 2007 to 2011 as a commissioned Army officer.
BO paid into the Montgomery GI Bill (MGIB) as an enlisted soldier and qualified for the maximum benefit through military service. He also was eligible for the Post-9/11 GI Bill through his service.
He used roughly 25 months of a maximum 36 months of his Montgomery GI Bill benefits to earn his undergraduate degree and returned to the military as an officer.
The Montgomery GI Bill dates to 1985 and is a program service members pay into that provides funds directly to those enrolled. You have the option to opt out when you join the military; otherwise, the service deducts $1,200 from your paycheck over time.
Eligibility varies, but service members must pay into it and serve three years to qualify, unless they have a specific agreement at the time they enlisted.
Then, as a veteran in May 2015, BO applied to use his Post-9/11 GI Bill benefits, which he earned while he was serving as an officer. He planned to attend seminary and return to the Army as a chaplain. Accepted to Yale Divinity School, he wanted to use the generous compensation provided under the Post-9/11 GI Bill, which covers tuition, books, fees and housing, to cover the cost of the Ivy League school.
Eligibility for the Post-9/11 GI Bill, which was introduced in 2009, is based on length of active service since Sept. 10, 2001. Maximum benefits are realized after 36 months or more of service or for those discharged with a service-connected disability after serving 30 consecutive days.
BO argued in his application that, since he served in two different periods, he was entitled to the maximum education benefits allowed from the VA by law, which are capped at 48 months. Therefore, he believed he was entitled to 23 more months of education benefits.
Weighing BO's claim, the VA decided that the veteran was entitled to roughly 10 more months of benefits, the difference between the 36 months entitled by the programs and the months he had already used under the Montgomery GI Bill.
On Aug. 15, two of three judges on the VA Appeals Court decided against the ruling, arguing that the Montgomery GI Bill and the Post-9/11 GI Bill programs do not require a veteran who has more than one separately qualifying period of service, i.e. split time, to relinquish or exhaust their MGIB program before receiving benefits under the Post-9/11 GI Bill program.
"Rather, they allow such a veteran to receive entitlement under both programs subject to a 26-month cap on utilization of each of the two separate programs and a 48-month cap overall," they wrote.
The veteran's attorney, Tim McHugh, with the law firm Hunton Andrews Kurth LLP of Richmond, Virginia, said the decision "has the potential to restore billions of dollars in Post-9/11 GI Bill benefits to military service members of the Post-9/11 era."
That's because most who qualified for the Montgomery GI Bill were made to sign a form designed in December 2008 that required them to forgo their Montgomery GI Bill benefits to receive Post-9/11 benefits, he said.
However, the actual requirements, which McHugh said do not require the veteran to give up the benefits they qualify for, weren't published until the following year.
"Over time, the VA came to believe that [the regulations written in the form] is what is required," said McHugh, an Army veteran who took the case pro bono as part of his firm's veterans outreach program.
McHugh could not say how many veterans may be affected by the ruling but believes if a service member "served six years and three of those were Post-9/11, you should qualify for both, if you paid into the Montgomery GI Bill."
The VA can appeal the ruling to the Federal Circuit Court of Appeals. A VA spokeswoman declined to discuss whether the department plans to fight the decision.
"VA is aware of this decision and is reviewing," spokeswoman Susan Carter told Military.com.
In 2018, 708,069 service members or veterans received education benefits under the Post-9/11 GI Bill, while 26,441 received payments under the Montgomery GI Bill for active-duty personnel and 48,960 under the Montgomery GI Bill for reserve personnel.
How this affects those who paid into the MGIB and served after Sept. 10, 2001, remains to be determined. In the complex ruling, the majority sent the case back to the VA appeals board, ordering it to award BO 22 months of education benefits.
The decision came too late for BO to use the benefits at Yale; he had to give up his spot and will be too old to go back into the Army once he completes seminary, according to McHugh. But he still can use the benefits elsewhere.
"He missed out on an opportunity … but he pursued this for others. This guy just can't stop serving," McHugh said of his client, who now works in counter-terrorism for the government.
Whether the ruling will apply to all veterans in similar circumstances remains to be determined by the VA, the courts and maybe Congress, McHugh added. He recommended that veterans contact their elected officials and veterans service organizations to press for clarification.
"We won't know the full effect until we have a better idea from the VA, maybe from Congress, on how the VA is going to handle this," he said.